Making local elections better, finding polling stations, watching GOV.UK/register-to-vote
..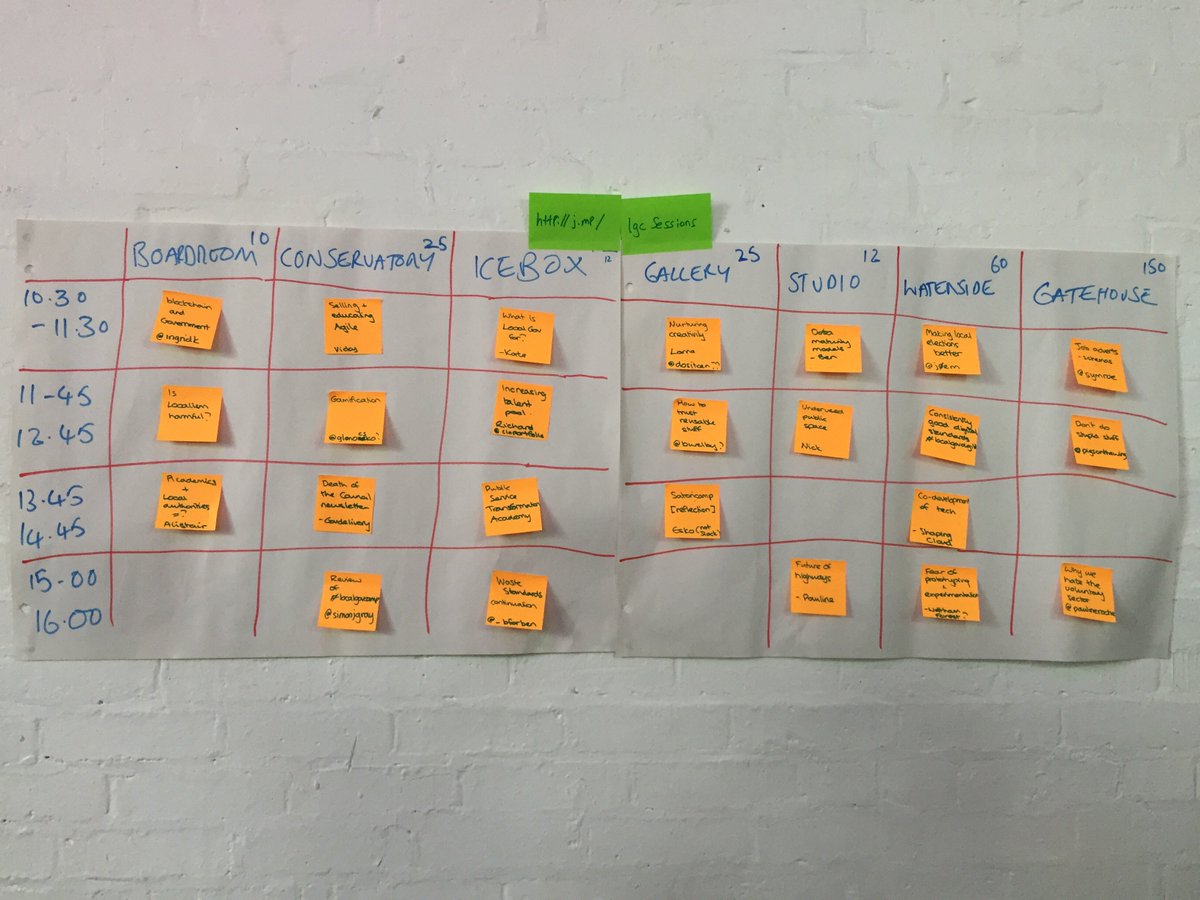 The un-agenda for localgovcamp, everyone's favourite localgov unconference!
Happy Friday, democracy fans. It's all going a bit EU crazy, but there's more to democracy than referenda!
In this week's blog we review: what went down when we asked a group of local government staff and supporters how to make local elections better; what happens when we take all the data we have on estimates of London's voter registration and stick it on a map; and we won't be saying much (okay, maybe a bit) about the Online Voter Registration Incident.
All democracy is local
We pitched a session at LocalGovCamp in sunny Birmingham last weekend. This is a big group of people who get together on a summer Saturday (and travel from far and wide to do so) to passionately discuss all things local government. Particularly, making it work better. It's impressive.
Democracy Club asked:
"Does anyone fancy chatting about how to make local elections (or democracy more broadly) a bit better?"
And people came to the session, which was nice. Everyone in the room had probably had some experience of the 5 May extravaganza, or Super Thursday, as nobody called it, and we were keen to grab any thoughts they'd had following the elections, or as we look towards May 2017.
Warning: we only had 50 minutes or so, which — it turns out — isn't enough time to save democracy. But! It was enough time to bounce around some interesting questions and a couple of ideas:
How do you create initial interest in what's happening at the local level anyway? Could we create profiles of your area, and compare yours with similar neighbourhoods?

How do you know what councillors in your area are doing? (And what does a councillor even do?) Not just at election time. Can we have dashboards of council performance?

Could we repurpose some of the 'voter advice applications' like Vote for Policies, Verto or VoteMatch for local contexts? Could we have one platform that anyone can populate with locally relevant issues and policies?

Could we encourage more people to stand? What are the barriers to entry — and what can we do to reduce them? Where independents run on a single issue, they've been shown to win, and then to stick around later. (Kidderminster example).

How can you introduce more of an emotional connection - so that people really care about the candidate(s) they're backing?

How can we find out about candidates' priorities in local elections? In national debates we hear about policies, but not so much when it comes to the local level. Where we saw an example of candidates putting forward a list of ten policies, they got newspaper coverage.

'Police and Crime Commissioners are still weird. Nobody wants to vote for them and nobody knows who they are.' However, at least they got a website (ChooseMyPCC) and had official statements. Could we have statements for every election? At least it's something. Does anyone know what the usage of the ChooseMyPCC website was like?

Several people asked the question of whether we actually know what citizens want from local elections. We need a discovery phase. Let's check the search logs of the council websites on election day (reader, do you have the power to do that? Let us know!)

How can councillors get more media coverage? It was pointed out that BBC Question Time used to feature council leaders on the panel, if that's not happening anymore, why not?
One person put forward the idea that actually none of this stuff can make a huge difference unless there's better local media (there's been a decline of local reporting of politics, and hyperlocal sites should be supported) — and until there's electoral reform away from First Past The Post. The Scottish local elections (and Welsh?) already use the Single Transferable Vote system, so perhaps electoral reform in England could also begin at the local level? It was interesting to note that on 5 May, everyone in the UK experienced a non-FPTP election, typically when 'second preference' voting for Police & Crime Commissioners or London Mayor.
Someone else pointed out that the existing system works well for the big parties, even if councillors themselves don't always feel well supported by their national party. Several folks agreed that national swings do affect local elections, and brilliant councillors can lose their seats because of a downturn in support for their party at the national level. If this is to be disrupted, then a sense that the election is unpredictable needs to be created.
One person asked whether elections are really the council's responsibility, or whether it's for candidates and parties to make them 'better'. Others argued that elections are another service run by councils and should have high service standards.
This all led us to a couple of experimental ideas - and then questions about what the statutory requirements are:
What if we could remove the party affiliation from the ballot paper, requiring people to vote for people not parties?

Or could we add a None of the Above, or Re-open Nominations option?

Could we move voting to the weekend?

Could we put polling stations in supermarkets?
With increased devolutionary powers, someone mentioned the idea that a particularly daring unitary council might be able to do some democratic experimentation. Or perhaps new rules could be tested at the town or parish council level first.
We left with some research actions for anyone to take on:
What's it's like as a candidate?

What do voters want? (Suggestion: get the user logs from council websites and see where people are going, what they're searching for - what patterns are repeated?)
For its part, Democracy Club suggested we could quiz candidates (we've got lots of their emails) on their experience, and how they think it could be improved. We also must do some user research into elections (not that everyone we meet doesn't volunteer their opinions within about 60 seconds of hearing what we do).
So thanks to all who came to the session - and see you next year!
Mapping voter registration in London
If you've read about our experiments with social norming of voter registration, you'll know we have a lot of data for London. Previously we'd shown you by ward-level how many people had registered in your area. Now Sym, cunning devil, has added an extra layer of detail. You can have a click around here.
Voter registration
It's not often that democratic infrastructure makes the top of the news bulletins, but when gov.uk/register-to-vote went down on Tuesday night, hours before the deadline to be registered to vote in the EU Referendum, it topped the Today programme the next morning.
Ignoring the dull 'well you should have done it earlier' argument (erm, no, if you say it's a deadline, then I'm going to work to that deadline), we've got some thoughts about this.
A full blog post to follow, but it might critique the idea of centralising a service that is decentralised. It's electoral registration officers in every local government are responsible for voter registration; the GOV.UK site, run by central government via the Cabinet Office, is a front-end that feeds data to those officers. This creates issues, not only from the increased risk of something centralised falling over at a point of high demand, but by removing the power of local gov to offer their own better services (like for example, the service of being able to check whether you're registered, which could save councils from dealing with repeat applications). There's also an interesting constitutional question about whether the Cabinet Office should be taking on the role they do for voter registration… But more to come!
Polling stations update
Next week we'll be importing lots of polling station data across London and renaming the site and refreshing the design. We're still on the lookout for a user researcher to come do some guerrilla testing of the site: please spread the word!
In terms of data, we've had a mostly good response, but alas, there are some councils that have said they can't or don't have time to provide data. Here's the breakdown at lunchtime on Friday 10 June:
Responded with data / already provided an API: Brent, Camden, City of London, Ealing, Enfield, Hillingdon, Hounslow, Kensington & Chelsea, Kingston, Lambeth, Redbridge, Richmond, Tower Hamlets, Waltham Forest and Westminster.
Coming soon: Barking & Dagenham, Greenwich, Islington
Unresponsive: Croydon, Hackney, Hammersmith & Fulham, Haringey, Lewisham, Merton, Newham, Southwark, Sutton, Wandsworth.
Refused (saying 'it's too time-consuming' or 'we don't have the data'): Bromley, Harrow, Havering.
Two weeks to go…
Forward!