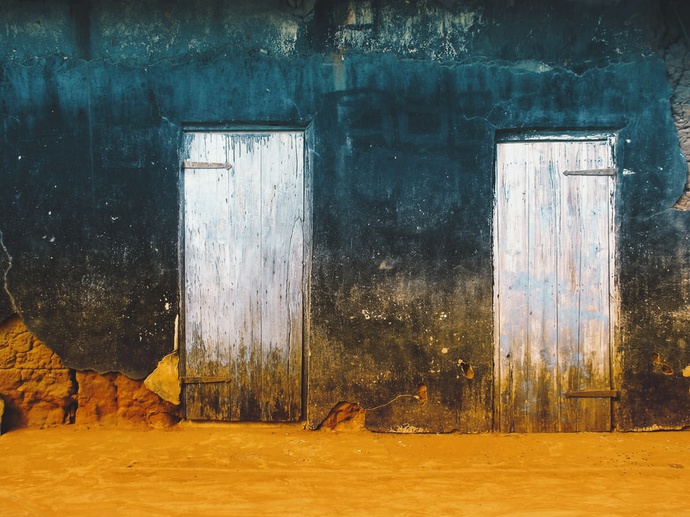 Pick a door, any door
Then there were two…weeks left to the general election. We've been refreshing candidate data, making improvements to WhoCanIVoteFor.co.uk, launching a new SuperWidget, attending events on trust in the elections, and getting as much polling location data into the system as humanly possible.
🦸‍♂️ Is it a bird…? 🦸‍♂️
No, blog readers, it's a SuperWidget. This combines both candidate and polling location info (where we have it) in one handy widget. You can add it to any website. It's free!
Check it out, esp. the Welsh-language toggle!
Grab the code here.
🏛 "Can we trust our electoral system?" 🏛
Just a small question from the The Institute for Government thinktank's event yesterday. Terry was there to represent DemoClub and she sent this post-match report…
Chaired by the IfG's Gavin Freeguard, the panel included Sir John Holmes, chair of the Electoral Commission, Liz Carolan head of Digital Action and co-founder of the Transparent Referendum Initiative in Ireland, Dr Martin Moore, Democracy Hacked author and Director of the Centre for the Study of Communication, Media and Power at King's College London, and Will Moy director of Full Fact.
While there was some good news on trust, the panel set out many pressing campaign-related problems and the key issue of our electoral system not keeping pace with the growth of digital.
Will Moy called for emergency legislation to tackle our out-dated electoral laws, and Liz Carolan spoke about websites mimicking neutral accounts, and the potential for their use for voter suppression, plus the need to review information requested of candidates for personal safety reasons.
Dr Moore highlighted the orchestrated online abuse and harassment of ordinary citizens who expressed political views, and the difficulty voters have of evaluating news that may be paid for.
Asked by Democracy Club about the need for high quality basic digital information such as candidate details, and who should be providing this, the panel agreed it was something important to work on.
It was great to hear Sir John thank Democracy Club for its work, which is used by the Electoral Commission. Will Moy said it was extraordinary that 20,000 Democracy Club volunteers were providing the key data that Full Fact uses, and also expressed his thanks.
Dr Moore agreed with our bigger call for new digital infrastructure, and said that it is vital for our electoral system to be more pro-active and less reactive when it comes to providing information and new frameworks.
For more, you can scan through some related tweets here.
🚰 Mmmm… refreshing data 🚰
A general election is a great opportunity to test the emails and twitter handles we have for candidates — cos everyone starts using them. Thanks to Engaging Networks and several others who've been sending us updates of verified email addresses, corrected twitter handles etc. We've now imported a load of these, bringing loads of candidate details bang up-to-date. Making things open makes things more accurate!
We had a chat this morning about candidates' statements to voters. We've no batches of these to import (although if you're reading, any political party, do get in touch) — so if you, dear blog reader, can spare five minutes to go check the candidates in your constituency, that'd be appreciated.
Pop your postcode into Candidates and check that the statements are germane to the current election. If not, find a new one! Facebook pages, local party websites and leaflets are all good sources. If there's nothing up-to-date and the old one looks seriously odd, just delete it to leave the statement blank. Thaaank you.
🤖 Automatic voter registration 🤖
Gosh there were a lot of tweets about registering to vote. But is it actually necessary? Lots of countries register people automatically…
The Labour Party manifesto is the only one to mention it, committing to introduce it:
"…making sure everyone who is entitled to vote can do so by introducing a system of automatic voter registration…"
Not much more detail there, but interesting to see. (On manifestos, we plan a roundup of democracy-related content of manifestos on the blog soon).
By happy coincidence, Toby James, an academic at the University of East Anglia, and author of the two Missing Millions reports for Bite the Ballot, is doing a public consultation on the idea.
He suggests several questions for respondents, such as…
What are the problems with the existing system of electoral registration?
What alternative systems have been used overseas? How effective have they proven?
What sources of data could be used for automatic voter registration? For example, information from other public bodies? Information from the private sector?
You can email Toby or fill in the form on this page.
🎵 Music to Crowdsource Election Data By🎵
We promise we thought of this before The Times Red Box version, but here's our collaborative Spotify playlist for the election.
Keep it non-partisan, but otherwise go wild :)
📆 What's next? 📆
We're hearing a rumour that next Thursday will be the 'democracy day' of the election campaign — or at least a bunch of democracy org's will try to make it so… keep an eye on the emails and social meeja.
There are also Democracy Club flyers out in the wild. We went all non-digital. Keep your eyes peeled, they could be, er, collectors' items one day.
Also: more data, more sharing, more partnerships.
Two weeks to go! Argh!
Forward!
🌵