It's Democracy Club meets Glastonbury Festival. Sort of.
..
Seven-twelfths is my favourite fraction. Just say it out loud. It's great. And it's Friday, and we're seven-twelfths through BGV!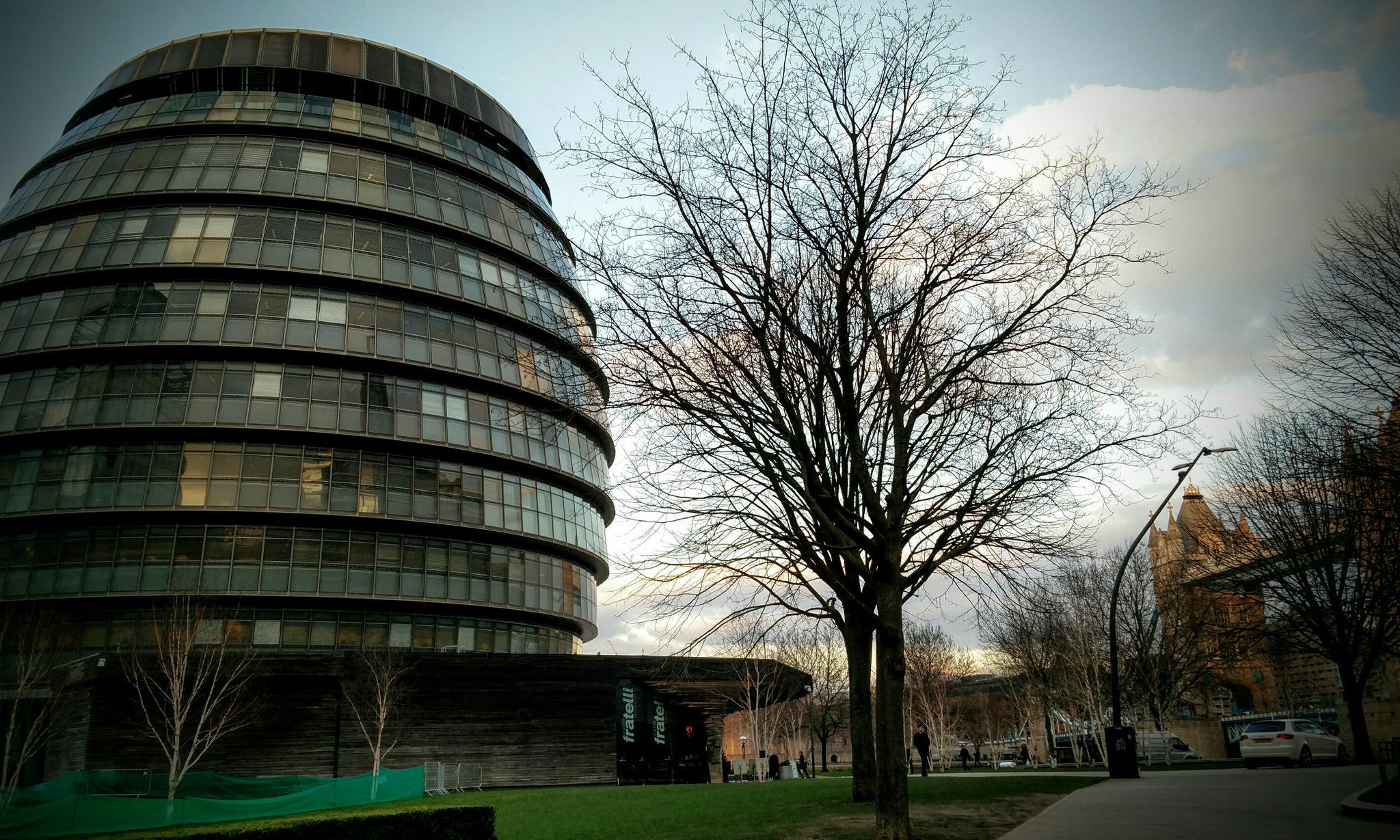 London's City Hall
Progress
The candidate-crowdsourcer (EveryCandidate?) is achingly nearly ready to go. We've had some mapping issues this week - turns out that maps with the boundary changes that go into force on the election day aren't available in a useful form yet. And might not be until April. And might not be public. More here.
Superstar user researcher Rose Rees Jones stopped by to run a workshop for BGV on usability testing, which has given us lots to think about once the thing is alive.
How we change the world
In a workshop last week, we talked about how we think Democracy Club changes the world: in campaigning terms, our 'theory of change.' It's always fun to work on these things, as they force you to state assumptions, help you understand what to measure and draw out any differences between team members. They also help you prioritise.
So here's our first attempt, what do you think?
That inspired some thinking about how we measure our social impact. RCTs are the gold standard, but how could we do trials like that for what we do? Could anything we experiment with be independently replicable?
We'll have a natural experiment going this May in that the polling-station-finder will be in place for many, but not all councils, and we could look at turnout between them.
And what about informed votes? How do we measure whether someone made an informed vote, such as whether they knew the names of the candidates in advance of getting to the polling station, and knew something about candidates' positions on issues, and so on? More to come.
Some referendum or other got announced
The EU referendum news has been the news. All week. We're hoping that the public aren't getting the impression that the next voting opportunity is the EUref…because in fact everyone in the UK has a poll on Thurs 5 May.
It's also a pity that the 23 June date means that ~150,000 people at Glastonbury won't vote unless they remember to do it by post. We're curious about whether it's really necessary to stick to allocated polling stations when the ballots are the same for everyone in the country. Wouldn't it be quite fun to have polling stations at Glasto? Hmm. Maybe not. Either way, festival organisers have said there won't be, and that festival-goers should postal vote.
Well-designed services meet the people where they are, rather than expecting the people to come to the services. But not here!
Meetings
We'd been looking forward to meeting the Greater London Authority for a while. They're the ones who live in the aubergine / armadillo / less politely nicknamed building pictured above. What's most exciting is that they're planning a polling station finder - which means that all the data on stations and districts is going to be produced by councils and handed to the GLA.
That this is happening is definitely a step forward. It would be great if we can persuade those councils to open that dataset more widely. There are no data protection issues, and the Public Sector Mapping Agreement with Ordnance Survey has been extended to us (thanks to pals at the Electoral Commission). And there's a pretty strong moral case for helping people to find where they vote. Let's make it happen.
On Wednesday, we hosted the Cabinet Office, Parliament Digital Service, Local Government Association and Local Government Information Unit to talk election results data. We'll be working with the Cabinet Office to get a commitment on the subject in the Open Government Partnership National Action Plan (Og-pnap among friends), and with LGA on the schema for the data.
We also had a quick hangout with Google, who are tightly focusing their civic work on the US election this year, but are looking forward to sharing what they're learning. And we had a Skype with Kuorum, who are building digital tools for politicians and - ambitiously - attempting to list every politician in the world. We're hoping to connect them with mySociety's everypolitician.org.
The Pitch
Pitch practice is now regularly underway at BGV-Towers. The incubator is pretty hot on the ensuring the quality of the pitches for demo day, which informally marks the end of the incubator process. Cramming what we're up to into 5 jargonless minutes is great discipline for an organisation created out of a group of people doing vaguely aligned projects led by anyone who wanted to build something. We've tried a couple of different ways of telling the Democracy Club story and we're learning what works. The group critique is excellent -
it's a fun way to spend an hour on a Friday afternoon - and there are some cracking presentations coming together from the other teams.
Next week
Wales awaits: come join us to talk open data and elections at Bara Brith Camp in Cardiff on Weds 2 March at 4pm. We're using the trip as a chance to catch up with NUS Wales and to meet supportive folks at the Welsh Government. We're partnering with both to deliver a fully working polling station finder that covers the whole of Wales. (This assumes that we can get the data from the 22 councils).
Here's a council tracker if you want to see progress - London is our other focus area - but we will be contacting all councils in the UK shortly.
On Weds 3 March we'll hang out in Cardiff for a bit - if you'd like to join us (maybe in doing a bit of a telethon to Welsh councils) - please give us a shout.
Forward.