To Wales! For there is data there.
..
It's week 8 at BGV, and here's Sym speaking at Cardiff Uni, with the GIANT numbers to help everyone focus.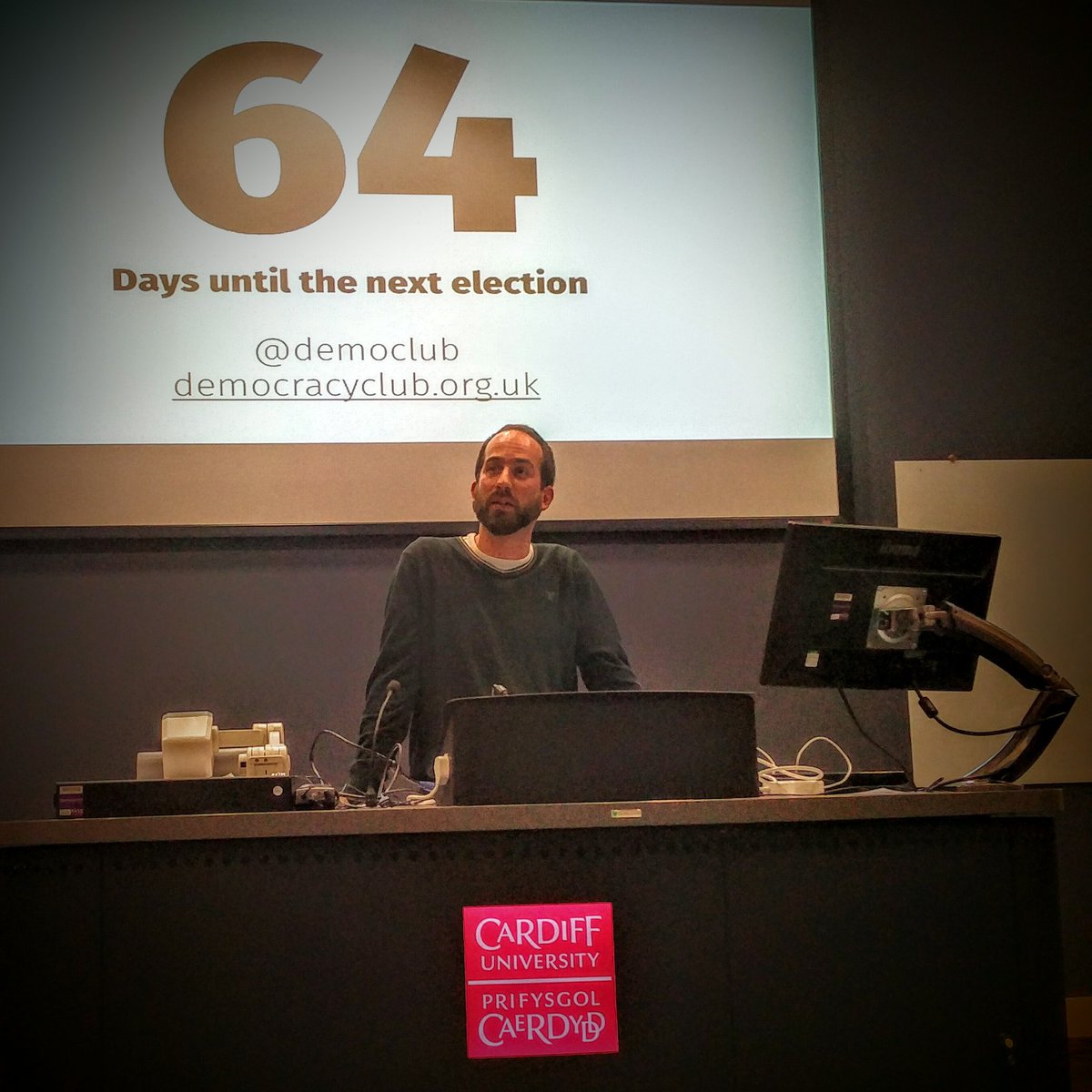 Why Wales?
Though it appear a little out of fashion,

There is much care and valour in this Welsh polling station data.

Henry V (4.1)
Missing St David's Day by a leek's breadth, we popped up to Cardiff. Pals at NUS Wales and the Welsh Government's democracy team are partnering with us to deliver an online polling station finder; and the good folks at Bara Brith Camp invited us to talk about it. Most importantly, Joe got to eat some bara brith for the first time, which is embarrassing because he claims to be a bit Welsh. It was great.
Nearly as importantly as cake, Sym presented the work we've been doing on polling stations, and our shared ambition to get every council in Wales to open their polling station data.
Why? So we can build a tool that allows anyone registered to vote in Wales to find their polling station online. This'll cut down calls to councils on polling day (and can work for referendum day too) - and help out those people who lost their polling card, never got one, left it on the bus, left it too close to the dog, or threw it away as White Company junk mail. (For more, see the post Sym wrote about this issue on election day last year.)
Also because it's the 21st century.
We had much fun in Cardiff - thanks to the wonderful Esko and Jo of Satori Lab for inviting and hosting, and to Claire at NUS Wales for bringing us together with the Welsh Govt.
Who's running?
So. 61 days to go now. 12,000 candidates for May 2016. Are you ready to help find some?
You lucky people can be first to road-test our candidates crowdsourcer! As if this Friday blog wasn't enough.
Please have a play, add some data, let us know what you think.
Is it clear what we're asking you to do? Does everything work as you'd expect? Comments below - or email hello@ or tweet us.
EURef Day 2408
…Or it feels like it. Hey media, there are elections before the referendum!
Before disappearing to Wales, we had an interesting chat with the Electoral Reform Society. They're planning a toolkit to help people run offline debates about the EU Referendum. This is the sort of thing we were pondering in our 'how do we do stuff to make the referendum' better meeting. We're recommending that they run the program in an experimental, minimum viable way. Looking forward to seeing how it goes.
What's next?
This afternoon we're meeting with mySociety designer, the delightfully named Zarino Zappia to discuss what WhoCanIVoteFor will look like for May. We'll have a lot of candidates and elections to explain. How do we do that in a clear, simple way? Zarino knows!
Next week we'll be doing some institution-building fun, looking at what it would cost to deliver a permanent, adequately staffed Democracy Club - and then trying to work out who'll fund it.
We'll be calling around the remaining Welsh councils - and making a start on London - for polling station data.
And we'll be going out to communities and volunteer groups that are likely to benefit from candidates data (that's everyone who wants to lobby them, write about them, or people who just really love politics) to find candidates data.
Phew.
Repeated call to action, this time in bold text
This is how click-through rates work, right?
Check out candidates.democracyclub.org.uk and let us know what you think!
And if you have friends in Welsh councils, let us know.
Forward.