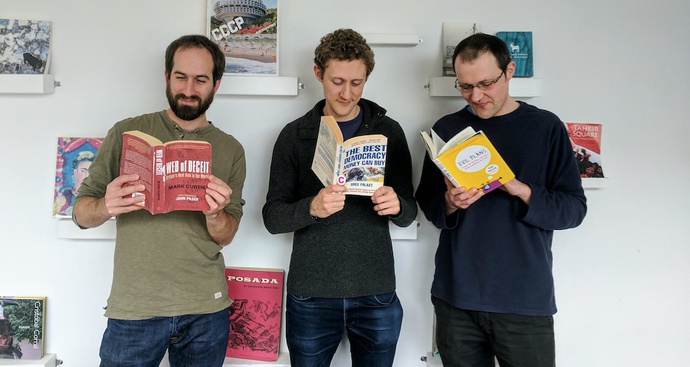 The three democrateers! (Sorry.)
Brought to you live from sunny (not true) Bristol, in this week's blog we welcome our third full-time team member, bring back WhereDoIVote.co.uk, and shout about crowdsourcing hustings data.
Welcoming Chris
Welcome to Chris Shaw! Chris has been doing astonishing amounts of volunteering (according to Github, that's 1,157 contributions in the last year!) on the polling station finder — and the funding from the Electoral Commission has allowed us to get him on the case full-time. He'll be patiently smashing his way through vast quantities of polling location data, in advance of 4 May. Then we'll give him a bit of a break before setting him loose on other projects. Chris is a developer with particular expertise in geo-data, a passion for open-source and open data, and we're lucky to have him. Welcome Chris!
We're kicking off this brave new world from Bristol today — thanks for the lovely Reading Room, Co-exist.
WhereDoIVote is back!
We've just completed our first import of polling location data for May '17. Through our partnership with the Electoral Commission — and thanks to the electoral information system suppliers for making it easier for councils to send data — we're well ahead of the coverage we got last year: we've passed one-third of all council areas with elections. Good news includes:
Every district council in the Combined Authority of Greater Manchester has sent over data. This means everyone voting in the Greater Manchester mayoral election should be able to find their polling station online.
Every district council in Lancashire has provided data — so we can provide coverage for every voter in the Lancashire County Council elections.
We're getting close to full coverage for county elections in Kent, Warwickshire, North Yorks, West Sussex, East Sussex and Cambridgeshire.
Our partners in Scotland — the Improvement Service — are working towards having nearly two-thirds of Scotland covered.
Take a look at WhereDoIVote.co.uk — we love feedback.
We'll be providing an embeddable finder to councils for their websites and we're hoping to work with NUS Wales, England and Scotland to help students find out where to vote. If you'd like to host a finder or would be interested in an API — get in touch. We're still trying to persuade Citymapper to do a "Get Me To Vote" button on their popular app — ditto if anyone knows anyone at Moovit…
Note to councils: not all the data we've received has been imported yet — we know you're keen to check it out…bear with us!
Meet your candidates
We've thrown a quick Google Spreadsheet together for popping in information about hustings. We're at 67 events so far — bear it mind if you come across any hustings in your area. Please also add any news media, blog coverage or videos of hustings; these are great for people who couldn't make it or didn't know a hustings was happening.
As we record events, we link them to an election ID, which means we should be able to pull all the data into WhoCanIVoteFor to encourage more voters to go to a hustings — or at least to allow more voters to catch up on past events before they go vote.
Next time, on democrablog…
We'll be:
getting through the backlog of polling location data;
plotting some

UX

changes to WhoCanIVoteFor (again, thoughts and comments welcome);
preparing for the publication of official candidate lists;
attempting to register on Digital Marketplace;
…and much more.
Less than six weeks to go, everyone! 🚀
Forward!