And now on BBC One, Democracy Club.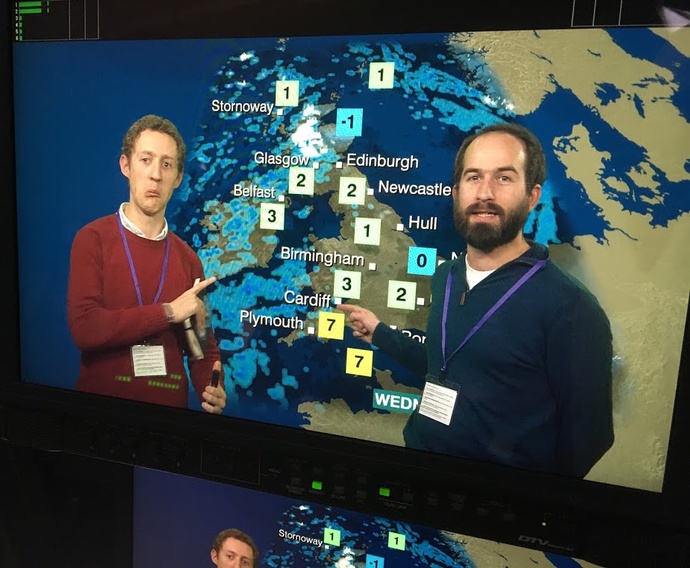 This week we visit the BBC, consider research priorities, prepare for making a New Plan and we get some rare good news about boundaries!
🎙 Democracy Club Live from Broadcasting House! 🎙
We went to the BBC to talk about democracy and they cunningly distracted us with a studio tour. Cue silly photos:
More seriously, we've long seen the BBC as potentially the most valuable partner for us in terms of helping out voters. If we're looking to work with trusted organisations who are impartial, funded by the people, with huge audiences — then there's nobody else quite like the BBC. But while they're often up to groundbreaking digital things — iPlayer, anyone? — it seems like that digital magic hasn't really touched anything relating to citizenship, which until recently was one of the BBC's core public purposes set out in its royal charter. Today the charter doesn't explicitly mention citizenship, sadly, but we'd make the case that helping out voters is a vital bit of the BBC's current remit to "provide impartial news and information to help people understand and engage with the world around them".
So we were very pleased to meet with some enthusiasts for the cause on Tuesday, from the BBC's elections and news partnerships teams. We're hoping they can help make the case for more voter information via the BBC, convincing the various powers that be within the BBC that this is important, that we are trustworthy and that this is worth supporting financially too. We're also hoping to create some good connections with the forthcoming local democracy reporters project, which could really boost the public understanding of local government. Hurray!
🔬 Next steps on research 🔬
Wednesday saw the next round of our work to try to focus our research efforts. We had already asked Slack members to offer up any research-y questions they had about Democracy Club's users — voters, data partners, volunteers and so on. We took that list and spent a happy evening categorising the questions according to what we think we already know, with the help of some volunteer research experts.
You can see the categorised questions as a Trello board, of course, so do please take a look through and comment on the cards where you think we might know something already, even if anecdotal.
In the new year, we'll take another look at these questions, group them by audience/user type, decide which is most urgent and important, and then get stuck in with the actual interviews or surveys or however we plan to learn more.
📋 We're making a plan, we're checking it twice 📋
Remember ages ago when there wasn't a general election? We had made what seemed like a nice plan up to 2020. Then June came along and confused everything. After that, partly because we knew we needed to appoint a board and that they would want a say in the longer-term planning, we only looked to plan for the short-term: just one year ahead. (Check out the halfway review here).
Now that we actually have a board — and notwithstanding the ongoing possibility of an early election — we're trying to start thinking about the medium to long-term again. We're sketching out a few scenarios — some that involve continuing to do everything we currently do, some that involve cutting back on certain themes, and so on. We'll looking closely at the theory of change, wondering about how to prioritise the data, the club, the apps and labs. We'll be trying to get more specific about the positive social impact we are trying to engender, working out what resources we need to deliver this and where they might come from (aside from an Initial DemocraCoin Offering, obviously). And we'll try to do this all openly.
🗺 Good news about boundaries! 🗺
This never happens. If you're a regular reader, you'll know we struggle over the boundaries of political areas a lot. Most ridiculously, where a boundary change has been approved to be in place at an upcoming election, that new-boundary data has often only been released by Ordnance Survey after the election date. Which makes it pretty tricky to build services for voters who would like to know what they're voting in, or whether they're in an area with an election at all.
So it seems like pretty good news that the Local Government Boundary Commission for England have told us that they will now publish the geography data on new boundaries in a machine-readable format as soon as the final recommendations are made — i.e. well before any election involving that boundary. This means we aren't blocked by OS's slow processes any more. For Manchester, for example, the final recommendations of the new boundaries that will be used for the May 2018 elections are available as machine-readable data here. We're sure there will still be new, entertaining boundary issues to test the patience of Chris and Sym regularly, but for now, this looks like Good News.
Remember, you can get the latest gripping installment of election-boundary-chat in the Democracy Club Slack, alongside other good tidbits, such as why there's a by-election taking place in the less-than-ideal first week of January.
🎄 Next week 🎄
The last by-elections of the year are over — 'Who Can I Vote For?' is looking quite bare. Next week, we'll be putting up the democratree, making paper chains from poll cards, and perhaps celebrating with one or two of these perfect-for-any-democracy-fan beverages.
Forward!