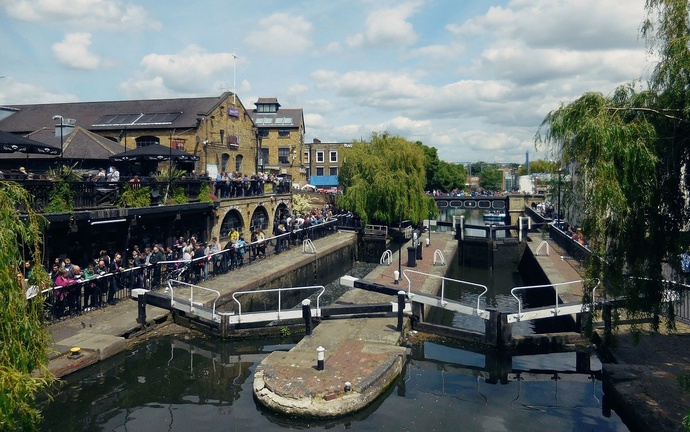 The good burghers of the London Borough of Camden
Happy Friday! It's been a week of noodling at backendy things, solving problems and squashing bugs. Sorry bugs. Here's a quick overview of the more frontendy things, including meetups in Huddersfield and London, losing a Minister, and — the big question — what should we do next?
📮 London elections meetup 📮
Last week we mentioned that we're getting excited about the delicious local elections coming up in May. These include all-out elections across all 32 boroughs of London. That's loads of candidates. Turnout in 2014 was ~39%, which isn't bad compared with the national average, but that's not saying much. London can do better!
If you're interested in helping improve the elections — from Barnet to Bromley, Hillingdon to Havering — then Ed Saperia at Newspeak House is opening up space for an informal chat about the elections and technology on Monday 5 February. Come along! We'll be there and we'd love to chat all things elections and voter information. (And you don't have to be a techie!)
🏛 #NotWestminster 🏛
On a similar theme, come mid-February, you can find a group of local democracy enthusiasts from the public, private and third sectors gathering in Huddersfield at something called #NotWestminster.
Democracy Club will be there to help to host on Friday 16th February. We'll be encouraging people to run with any ideas they have about elections (obvs), hustings, and also decision-making within councils. If you have an idea or question you'd like us to put to the event, we'd be happy to — just get in touch. And we hope we might see you in Huddersfield on the Friday, Saturday or both. Everyone's welcome!
🏃🏽 Shuffled off! 🏃🏽
After writing all about the Minister for the Constitution's democratic engagement plan last week, the Minister promptly went and got reshuffled. All best wishes to Chris Skidmore, who heads off to head up the Conservatives policy arm. As we understand it (but frankly, we don't), there is now no Minister for the Constitution.
We need to try to work out who among the new Cabinet Office ministers we should speak to — probably one of Chloe Smith MP or Oliver Dowden MP. Did you go to university with either of these people? Do you bump into them on the weekly foodshop? If you happen to be mates with either, please do introduce us!
🌱 Life after May (the month) 🌱
Each year, Democracy Club seems to get a bit more established, a bit more, er, strong and stable. As a result, we're increasingly able to plan ahead. Sometimes those plans get a scuppered, such as when a snap general election is called…but such is life.
We're currently at one of those moments where we think we can do some planning ahead. We've got the May locals to work toward, but we can already start plotting what comes after that. There might, for example, be quite a quiet year in 2019, unless youknowwhat happens. This might allow time to experiment with bringing crowdsourcing and good digital service design to some new areas of non-electoral democracy. But which bit? Where to start?
We've put our heads together internally to try to sketch something of a Cunning Plan for the future. This is forcing us to ask the big questions: what does success look like, what should be prioritised, what should we not do, where's the revenue source, and so on… We'll be working with our new board to develop this and then take it to some funders. But as always we'd love your thoughts on this too. We'll have some documents to share soon — but consider this an open call to get in touch with your views on those big questions. Particularly if you have experience with strategic plans, beautiful slide decks or compelling fundraising bids — don't be shy!
📅 What's next? 📅
Next week Sym heads for Windsor Castle to talk fake news and we'll be cracking on with the current sprint — including emails to go out to councillors to see if they plan to stand again, firing up the council-polling-location-data status tracker, and more!
Forward!