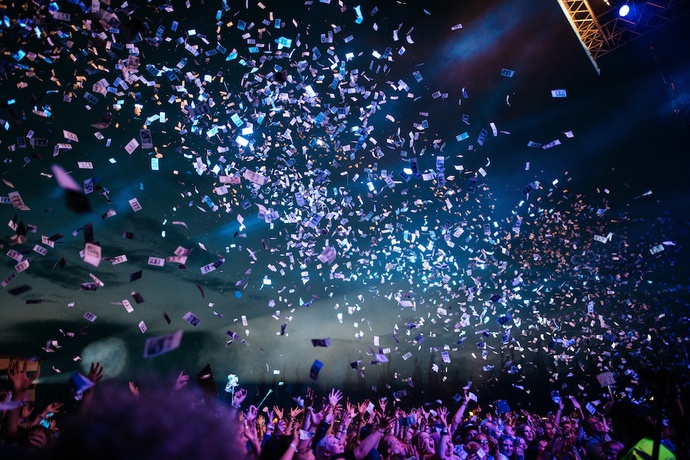 This is sort of what a SOPN party looks like.
Crowdsourcing parties, machine learning, the collapse of democracy — it's Fridayblog!
🎉 We're having a party! Three of them! 🎉
SOPN day approaches. On Monday 9 April councils should publish Statements of Persons Nominated (SOPNs) for the 3 May elections. We'll spend that evening collating the PDFs.
Then on the evening of Tuesday 10th April we'll be hosting crowdsourcing parties in London (Newspeak House), Birmingham and Manchester.
Come and join us! Help us get that candidate data out of PDFs and into useful structured formats so people can build stuff to help voters!
We've not finalised the venues for the latter two — if you have any preferences or suggestions, let us know. We'll provide the food and drink. Drop in for as little or as long as you like — every little helps.
🤖 Machine learners, unite! 🤖
Interested in machine learning? Looking for something to test your skills? We'd love some help to train robots to help us speed up the process of listing election candidates.
We've got loads of training data ready to use — and some context of what's going on — here. Dive in!
⌚️ Got5? ⌚️
The Electoral Commission has launched a new voter registration campaign — Got5 — based on spreading the idea that voter registration is quick and easy. This is a shift from the previous message that tried to evoke a risk of 'missing out'.
As well as the TV advert, the commission is hoping that 'Got5' could become a bit of a meme. If you're up for a challenge, the commission will retweet the best images that use the hashtag #Got5.
In London, where every seat in every borough is up for election, the commission estimates that 'between 980,000 and 1.1 million aren't registered to vote' — so there's much to be done.
📰 We're not in The Economist 📰
In last week's Economist, "Bagehot" — the Britain columnist — suggested that not enough attention was being paid to the risks facing British democratic institutions. In the article, "It Could Happen In Britain" the columnist argues that populists on the left and right, weak formal defences against authoritarian populism and future global economic shocks could combine in a perfect storm.
We wrote to the editor, arguing that attention needs to be paid too to the growing gulf between citizens' expectations of interaction and the country's archaic democratic machinery. We also suggested that better "data on democracy could kickstart a flourishing democratic innovation sector, or at least better public education, and help reinforce our creaking democratic infrastructure for the challenges we may be about to face."
They didn't publish it. Darn mainstream media.
🇫🇷 Vive le civictech 🇫🇷
If your French is better than ours, you'll be able to enjoy this piece in Le Monde on La Halle civique, la nouvelle laboratoire de la démocratie participative à Paris — a dedicated centre for civic tech organisations to work together on improving civic participation and public debate. Mooted for a while, it officially opened this week, so « chapeau, mes amis! »
That's New York, Paris…does the UK need a host city for civic tech? Contenders in the comments please.
🌨 Weather forecast 🌨
It's going to snow again this weekend, so best stock up on internets and get crowdsourcing candidate data! Searching for local parties and candidates on twitter or facebook can be a good way to start: pick an election from the May list and start searching!
📅 What's next? 📅
We'll be in Cardiff on Tuesday to plan our next sprint. You can see our backlog here. We'll also be popping into the Data4Development conference in Bristol, to see if anyone's doing anything interesting for democracy, and we'll be dealing with the ramp-up in polling location data that starts to pour into our inbox around this time of year.
Forward!
Photo by Pablo Heimplatz on Unsplash