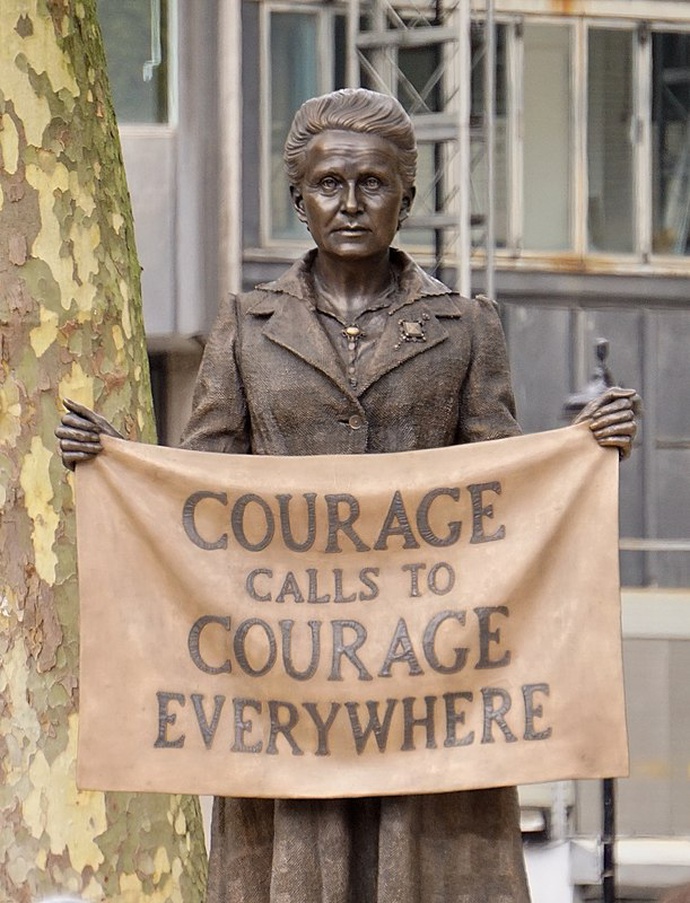 Millicent Fawcett by Gillian Wearing, 2018
Six days to go! And we still need your help to help voters. Also this week, a statue of Millicent Fawcett was unveiled in central London, so we looked at the gender divide by candidates for LE2018. And we're winning at polling stations.
💪 One last push 💪
We still need your help; every five minutes of crowdsourcing is useful! We realised that searching for contact details or a social media presence for individual local candidates is often fruitless, but searching for information on local party groups is much easier. So this is our main task at the moment.
We're populating this spreadsheet with local party information. The full list of local elections is here — look for one that isn't yet in the spreadsheet and see what local party info you can find and add for that area.
This approach too has its problems: the way political parties are organised varies, so they don't necessarily map to the areas with local elections. But any relevant information is better than a blank page! (And we can go down to ward level information if useful — see the Ealing example in the spreadsheet.)
Hopefully you can help us receive more feedback to WhoCanIVoteFor.co.uk that looks like this…
"This is literally the only place I've been able to find statements by the candidates. Most don't seem to even have an online presence. Thanks for informing my voting decisions."
…instead of feedback that looks like this:
"I wanted biographies of Lib Dem candidates for upcoming Camden Council elections - no information available on any of the three candidates in my ward 16"
And we're still collating hustings data — and individual data can still be added here.
🙌 "Courage calls to courage everywhere…" 🙌
On Weds the great and good gathered to celebrate the unveiling of the first statue of a woman to grace Parliament Square: Millicent Fawcett, the campaigner for women's suffrage.
We were inspired to take a look at some of the gender stats from Democracy Club's candidates data.
There are ~16,070 candidates standing for election on 3 May. Of these candidates, 9,856 are men and 5,338 are women. That's 62% men. 876 candidates had names that did not indicate their gender or the candidates have declared a non-binary identity.
Of the major parties, the Labour Party (55% of candidates are men) and Green Party of England & Wales (57% of candidates are men) come closest to fielding a gender-balanced set of candidates.
Of the major cities analysed, London is closest to a set of gender-balanced candidates, while in Birmingham fewer than 3 in 10 candidates are women.
Here's how the breakdown looks by major political parties:
Conservatives: 67% men

Labour: 55% men

Liberal Democrat: 66% men

Green: 57% men


UKIP

: 79% men

And by major city:
London: 62% men

Birmingham: 72% men

Greater Manchester: 66% men

Leeds: 64% men

Want to run your own analysis? Get the data here.
"…and its voice cannot be denied."
📍We know where you vote (mostly) 📍
There are 152 local authorities with a scheduled election next week. We have polling location data for 🎉121 🎉of them live on the site now — and a few more in the pipeline!
Surely this is now the point where we've proved beyond doubt that this is something voters need (think 2m+ uses last year) and this is something that local authorities want to provide.
The next step is to convince some institution of the state to agree to fund the whole shebang. Our pals at the Electoral Commission put in £50k/yr, but this doesn't cover the costs. (As a related point of reference, the Cabinet Office spent ~£10m on poll cards at the general election.)
We're always looking for advice on how to make this case to institutions — get in touch if you know more!
📅 What's next? 📅
Something…happening…Thursday….3rd…May….
We'll be grabbing all the last candidate data we can, keeping the plates spinning, reminding people that they can embed this polling finder widget in any website, and generally hustling… expect some emails!
Forward!
Photo credit: Garry Knight