One week: 26,666 candidates!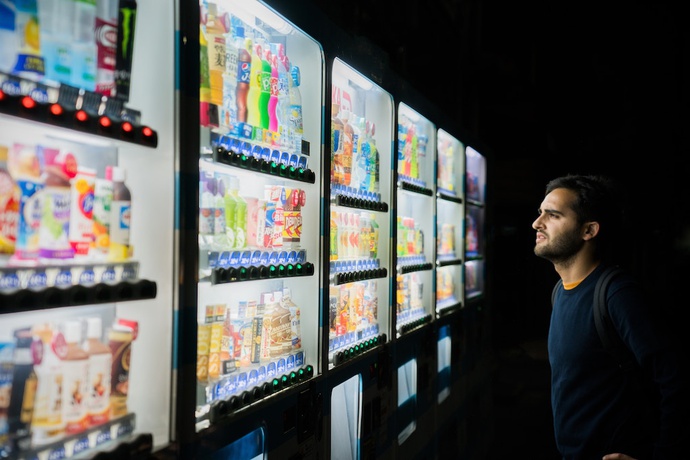 If elected representatives came in vending machines
Tada! We've gone and done it: every candidate for every election on 2 May. But there's more to do! And what should we do for the European Parliamentary elections?
🎉 Incredible wombles 🎉
In a little under a week, the amazing volunteers of Democracy Club — sometimes enhanced with robots — worked their way through over 5,000 PDFs to gather the names and party affiliations of an enormous field of 26,666 candidates. Volunteers then double-checked all of these documents again, so we can be highly confident we've got the most accurate, comprehensive data on every candidate for every local election on 2 May.
This is double the number of candidates we had to collect last year — and we got through the task quicker than ever!
From election data parties across the country, to people working through data on their commutes to work, it was a bit of a ridiculously large task. And we ain't finished yet…
Thanks to @ollybenson of @democlub for supporting us in #Birmingham tonight + thanks to @j0e_m we all enjoyed the tasty snacks to keep us going! Democracy in action at @ImpactHubBrum #SoPNDay #SoPNDayBrum pic.twitter.com/xPp3Q2xio1

— ⭐Pauline Roche⭐🇮🇪 🇪🇺 (@paulineroche) April 8, 2019
Why do we do this? To help voters, of course! Visitor numbers to Who Can I Vote For? have already started to ramp up — around 3x the numbers this time last year, including quite a bit of traffic from the Mirror's website linking to us.
Feedback to Who Can I Vote For? has also improved now that we can tell people who their candidates are. As in previous years, at this point, the feedback changes from 'Who are my candidates?!' to 'You need to provide information on my candidates!'
If you'd like to see the feedback, we publish daily updates to #website-feedback in our online chat.
Meanwhile, BBC News Online featured a story on 'Why don't people vote?' this week, failing to acknowledge the now-quite-well-evidenced factor that people don't have enough information. Here's a quick reminder from The Electoral Commission's 'Voting in 2017':
"We asked [2,000] people in England with local government elections if they felt they had enough information to make an informed choice on who to vote for – one third of all respondents, including nearly half of 18-34 year olds, disagreed. More work must be done to ensure that all voters have access to information about these elections and who they can vote for…"
So with all that said, you know what to do, dear blog reader:
🇪🇺 Just when you thought you were out… 🇪🇺
You make extraordinary efforts to produce brilliant data on the local elections, and then a European Parliamentary election crashes the party. Unless something significant changes, you'll be voting in a European Parliament election on Thursday 23 May.
So we've cranked up the crowdsourcer and can now accept europarl candidate data. It should be a much simpler task than the locals — there will be party lists (and probably a few independents) across twelve UK regions. We can expect all the party lists to be published by the returning officers by 5pm on Thurs 25 April.
But given the very different nature of these elections, we're wondering what is useful for voters. Will this just be a signalling exercise about Brexit? Or will people actually care what the parties have in their euro manifestos. Will there be manifestos? Do we need to explain the transnational political groups of the parliament? Let us know what you think.
The scarier task now facing us is that we have a month to whip together a polling station finder for the whole country. We're not doing anything until we get news on funding for this, but we're already looking for people to help us import data. Unfortunately, we can't just reuse the data from 2 May, because most areas are likely to change polling locations. More to follow.
📉 The state of democracy 📉
There's no shortage of commentating on the demise of democracy about at the moment. There's rarely any good data to back these claims up. Except, that is, for the Audit of Political Engagement, now in its 16th edition, and, along with the British Election Study, perhaps the best indicator of the health of our democracy.
Some headlines from this year's audit:
72% say the system of governing needs 'quite a lot' or 'a great deal' of improvement.
54% say Britain needs a strong leader who is willing to break the rules.
47% feel they have no influence at all over national decision-making – a new high for the Audit series.
These stats should worry everyone who appreciates a democratic system of governance. At Democracy Club, our work aims to improve the health of democracy: to provide useful, accessible information that enables participation in the democratic process. But we are a drop in the ocean compared with what's required — we plan to press on with demanding much greater efforts (and spending) by state institutions over the rest of this year.
🖊 Register to vote! 🖊
Today (Friday) is the last day to register to vote for the local elections. If you know anyone who's moved house recently, remind them to register!
📅 What's next? 📅
Next week: more crowdsourcing; working out what to do for the Europarl elections — and how to fund it; and we'll be analysing our new candidate data, so watch out for interesting tidbits over twitter. If you're a journalist and you'd like to run some queries on the data, get in touch!
🇮🇳 And finally… 🇮🇳
…at least you're not running the biggest election in the world ever.