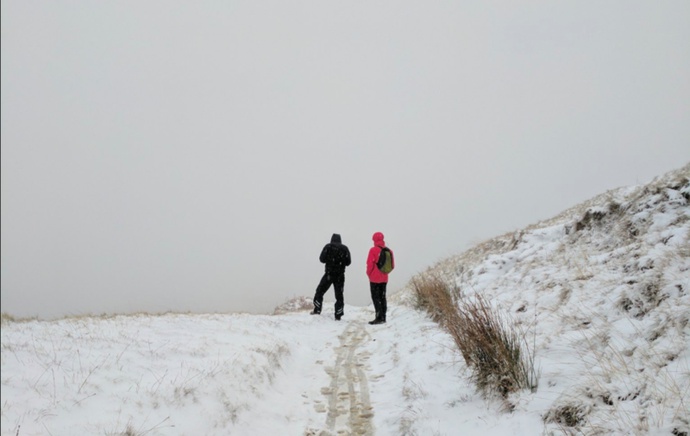 Somewhere in West Yorkshire, Joe and Sym are out looking for polling stations.
Last week saw Democracy Club on the road — from the English Channel to the Peak District. This blog is about our adventures. And we catch you up on crowdsourcing, polling stations and ask you what you want from a new(ish) DC website.
Brighton Rock
There wasn't any rock. Nor any murder, happily. Instead, we were kindly invited to be guests and speakers at the Annual Conference of the Association of Electoral Administrators — the people who make elections happen — on the glorious sunny seafront of Brighton.
Not only were we given a shout out by the chief exec of the Electoral Commission and the Minister for the Constitution, thanks both, but we got to meet the people at the frontline: the burning coal face of ballot papers.
We did our 'intro to democracy club' presentation and hopefully piqued some interest. We had a couple of questions about data accuracy and ensuring its accurate reuse, to which we'll return in future blogs. Since the conference, we've seen a good number of new councils sending their where-to-vote data through to us. More generally, hopefully election workers can now put some faces to the names for all the emails we send them.
We also met all the main electoral management system vendors — the folks who run the software for the databases of electors and polling stations that your councils use. This was helpful, as they can help make it easier for election admins to get us data. And they're mostly enthusiastic to help out. Hurray!
But I / skimmed flat stones across Black Moss on a day / so still I could hear each set of ripples / as they crossed.
Anyone who did the English GCSE circa the mid-90s will recognise these words from Simon Armitage's 'It Ain't What You Do, It's What It Does To You', in part a paean to glorious Yorkshire. Armitage was born in Marsden — where the above photo was taken. Marsden is a stone's throw from Huddersfield, which (we're getting there) is home to the #NotWestminster conference, organised by a gaggle of folks who like to imagine that local democracy can be done better.
It's a fine aim, and it's always a fun conference — although 'conference' doesn't do it justice.
Topics of workshops, conversations and lightning talks included open-source politics, civic storytelling, clicktivism and Jo Cox — and much more here.
On the Saturday, Joe ran a workshop to brainstorm the 'Great British By-Election'. The idea is that if we could really throw some effort and money at a random local by-election, we could prove that there are things we can do to boost informed voter turnout at local elections generally.
We slipped up early on, getting called out for the amount of jargon we democracy enthusiasts tend to use — we were already too quick to make assumptions about people who don't think about democracy all the time (apparently these people exist).
But we came up with a good range of Things We Could Do Now ideas and a bunch of Things If We Were Starting From Scratch ideas. On the former, we liked:
Wikipedia pages for candidates — taking advantage of all publicly available data on a candidate, like company directorships, local licences;

Rebrand everything — a by-election becomes a Special Election, your election poll card is a 'Golden Ticket to the Votey McVote Place' and comes with chocolate (we jest, but only slightly); polling stations get some love and attention;

X-Factor/Dragon's Den for candidates — make hustings extraordinary, unmissable local events.
On the latter, slightly more tricky side:
Reverse nominations — voters are asked to nominate someone they think they would make a good candidate, the top three nominations go on the ballot paper;

No political parties at local elections (might arise through the above too);

Apprentice schemes and probationary periods.
Skim read the full-fat notes — they're great! Thanks to Dave McKenna for transcribing.
The plan is that we can take some of those ideas forward and actually make them happen at a by-election outside of the normal election season (i.e. when we have a bit more time). If you'd like to volunteer your area to trial it, please get in touch!
There are candidates out there…
Please help us find them. The crowdsourcer is up-and-running. We have details of every candidate for the Northern Ireland Assembly elections and we're gradually spotting the candidates for this May's mayoral and councillor elections. Get hunting!
We're even crowdsourcing the details of folks running for City of London Corporation's Court of Common Council (or as we like to call it, CLCCCC). These are presumably the people who really run the world, so we need their details! And these elections are interesting, cos you don't have to live in the City of London — you can vote if you work there, too — assuming that you remembered to register. These elections are also fun because, not content with the word 'husting', which is already pretty obscure, the City calls call these election debates 'wardmotes' — cracking stuff.
Fifty councils down
Fifty councils have now provided data to be included in the polling station finder. This doesn't include all the Scottish councils, who are (we think) working with the Improvement Service to publish across the board, which is exciting. Nor does it include perhaps another 10-20 councils who have alerted us that they are still finalising their polling stations. However, this still leaves a lot that haven't responded. Want to politely request that they do, perhaps via your councillors? Get in touch.
DemocracyClub.org.uk
We know the company website needs a little bit of a love. But what should we do with it?
How do you use the website? What do you want from it? Can you put yourselves in the shoes of others to suggest what they might want?
Let us know! Or have a scribble in the user stories in this document.
Next time, on DemocraBlog…
More polling stations; more spreading the word about candidates (both to get data and to push it out to people who can use it); and there are apparently some parliamentary by-elections that will determine the future of everyone, etc. We've also been getting several emails from people trying to upload leaflets to ElectionLeaflets.org — but it's a bit broken. We'll look into this and see if it's easy to fix. If not, we might need to raise some money to try to mend it. Eek.
Forward!
Photo credit: Rose Rees Jones