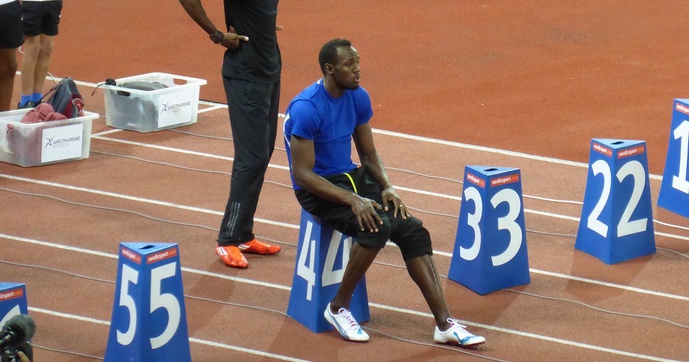 How we prepare for sprints. Also the only CC0 photo of Usain Bolt.
A few days into Sprint #2, we've published the polling location lookup data per local authority, our Trello boards are working well, we're talking leaflets and boards. Read on!
How did your council area do at
GE2017

?

We've published all the data from the polling station lookups per local authority. You can see how many searched with a postcode in that area, and how many got a result from the finder. Want to know how many searches in Blackburn? Mid-Suffolk? Birmingham? Check it out.

Why share this? Well, it's interesting, and it gives us some obvious pointers when you see it all in one place. For example, there were 20,000 searches with no results in Tower Hamlets. Ouch. Tower Hamlets has its own finder — try it, e.g. E1 4RT, and see what you think. Northern Ireland also stands out — we can hopefully connect with the Electoral Office of Northern Ireland to get their data in the finder too.

If you're so minded, upon spotting your local authority, do either (a) thank them, or (b) nudge them to provide the data next time?

Where there is a significant difference between the searches and the results, but the results aren't zero, this was typically because we only received partial data — or we spotted a recurring problem and took the data down on the day.
Tre-llo, Tre-e-e-llo. I want a Trello and I want one now.
Apologies to a 1980s chocolate bar advert, but our open Trello boards are working well — people we've never met are commenting on them! Openness works! Not seen them before? Read about our approach or just dive in and poke about.
The future of leaflets.
On Weds evening we hosted a Hangout to talk about the future of ElectionLeaflets.org — there's a one-pager coming soon. We'll then take that to as many potential partners as we can think of and see if come up with some kind of sponsorship or co-owned sustainable model. If you'd like to contribute, here's the slightly messy discussion we had — and join the #election-leaflets channel on our Slack.
I'm bored. I'm the chairman of the bored.
We're looking for new board members! Iggy Pop always welcome. We're currently writing the job spec, which is somewhat tricky — but keep an eye out for the advert and get your thinking caps on about who would be great at boardom. Once we've got a proper board of directors we're also going to look at some kind of advisory council too. Many thanks to the lengthening list of people who are helping us / bearing with us in this process.
What's next?
As is now the way, you can see the plans for our current sprint, which is only a few days old, here.
Some highlights: Every Election improvements, coherent mailing list sign-up forms, the first DemoClub newsletter (for the 9,950 members who apparently don't read this blog every week - disappointing), and… a very draft research plan that needs your help.
Forward!