What did users make of Where Do I Vote?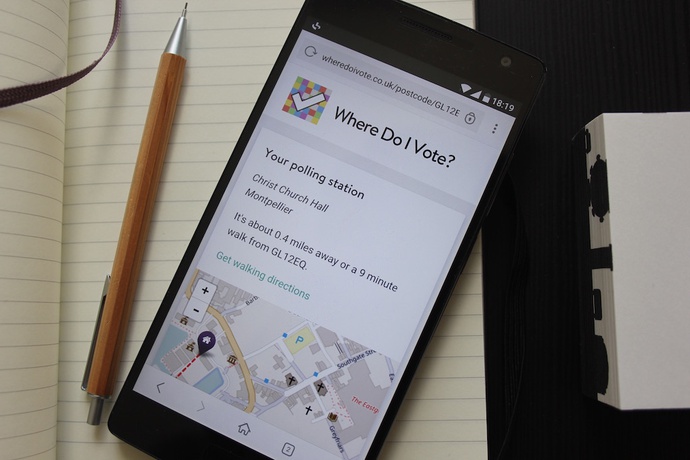 This week's blog is a Where Do I Vote? feedback special, with some highlights from the full report we published last week. We're also asking for recommendations for folks we should meet in New York next month, and thinking — as always — about stickers.
What did people think of our Where Do I Vote? site
We collect feedback on both our web services (Where? and Who?) and it's totally fascinating.
Chris has now reviewed all the feedback to Where Do I Vote?, categorised it, and — because we're all about the openness — published it here. Fridayblog is a perfect opportunity to highlight some of the most interesting bits.
Happily, we received hundreds of short, positive comments, such as:
Super-easy to use, it took me less than 20 seconds to find out where I should vote.
Usefully, we also received lots of suggestions for improvements. One of the leading comments was that we should show polling station opening hours. We actually did do this, so we should think about how to make it more obvious. There were also requests for information on candidates and questions about whether you could choose another station (you can't).
There was some quite entertaining feedback on the map:
This "suggested" route is awful, am I expected to fly or crawl over gardens to get there?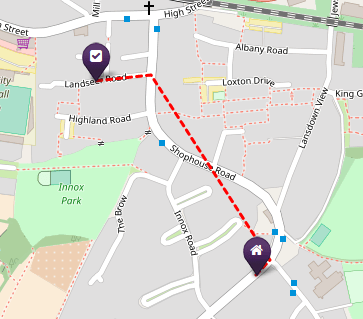 We blogged about the work we did to make this better, here.
More seriously, there were comments about the map pointing to the wrong place. This is due to the fact that we're often limited to the centre-of-the-postcode as the pinpoint for the polling station — but in fact the station might be towards the edge of the postcode area.
Highly inaccurate! This map shows the Polling Station to be at Skipton Auction Market not the swimming pool. It's a good job that I already know where to go as this load of rubbish would have sent me on a wild goose chase.
This shows we need better geographic data, such as Unique Property Reference Numbers or grid references, to give us accurate pinpoints for the map. (Note that the addresses we gave would have been correct, it was just the map that was wrong). Where we're not sent accurate geographic data by the councils, we're thinking about whether we can crowdsource the more precise pinpoints, since it's quite fun tracking down buildings on Google Streetview. More in the full review.
People also helpfully explained why they were using an online polling station finder: typically they didn't get a poll card, lost the card or were new to the area. The vast majority of users were on mobile, and the average session was just 53 seconds.
Reading direct feedback from users is brilliant, both for the pointers on what we can do better, and for the warm fuzzy feelings from the comments like those at the bottom of the report — enjoy!
New York, Stickers, Voter
ID
In October, we're heading to New York to meet co-beneficiary of Unbound funding, Democracy Works. They do election reminders, ballot tracking and have underpinned the Voting Information Project (similar to our various databases for democracy) in the US for years. We're also intrigued by their current TurboVote Challenge, where they're trying to get businesses to encourage democratic participation, something we've seen nervousness about in the UK, so are keen to work out how it works in the US. We'll also meet anyone we can find who'll talk to us about US/NY civic tech — any recommendations, any things you want to know? Get in touch!
One thing we'd already like to borrow from the USA is… more stickers. The 'I voted!' sticker is now a tradition across most of the states — and rather natty local stickers were being given to those voting in New York recently. Dave McKenna got in touch to suggest a good 'what if': what if 'someone' were to deliver stickers to polling stations for staff / party volunteers to hand out? We could test it out at the locals next year with some designer, iconic, locally relevant stickers…
A last other tidbit — the pilots have been announced for the introduction of voter identification at five local elections next May, in Woking, Gosport, Bromley, Watford and Slough. The Electoral Commission recommends this policy to enhance confidence in the electoral system, others suggest it risks disenfranchising voters. At Democracy Club we try to reduce barriers to voting and it's not clear how the pilots will accurately demonstrate the effect of the new ID requirement. There's probably more to follow on this.
Next week
Next week is busy: chats with potential board members; presenting the Democracy Club story to the staff-that-haven't-met-us-yet at the Electoral Commission; to Cardiff to encourage the Welsh Government to double down on democracy; and then back in London on Friday to plan a registration and turnout push for May 2018.
Next Thursday — the 28th — is also shaping up as something of a SuperThursday (sorry) with 12 by-elections across the country. Help us add information on the candidates (scroll down to the 28th) and we'll try to have it up on a refreshed Who Can I Vote For? for voters soon.
Onwards!