"Not good enough." (Or, The One With User Feedback)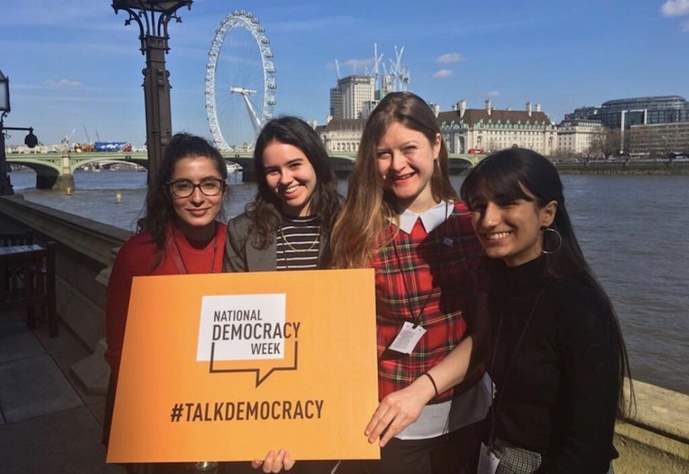 Democracy Club's Rose and pals, casually hanging out on the terrace of the House of Commons, celebrating the launch of the National Democracy Awards. Just going to leave this nomination form here.
In this week's blog… User feedback, a new look polling station finder, a comparison of the voter ID pilots and the data world comes to Bristol!
📝 We love user feedback 📝
We get regular feedback from users of 'Who Can I Vote For?'. The quantity seems to be gradually increasing as we head into election season.
Here's one from this week:
"Less than two months away from election and still no news on candidates. Not good enough."
We're not sure here if the user is blaming us or the UK's democracy generally, but either way, we agree.
We shared the feedback on our twitters, and it went down quite well, motivating some people to add candidate information, so we'll try to share more user feedback as we run in to the election.
Meanwhile, as a treat for Fridayblog readers, here's a few other bits from the past month:
"First try of site will be back to explore further"

"Labour candidate is Kevin Thomas"
The last one is interesting, because we do fairly clearly signpost to the crowdsourcer where users can add information like this, but perhaps there was a problem with it, or this person had no time, but still wanted to share the information they had.
"I put in my mums postcode and it said no election, I put in my friends and it came up with 3 labour candidates?
"Thanks for the work btw
"Ps if a seat has 2 or more pro eu candidates could you advise the one most likely to win?
We've responded to this by changing the copy on the website to try to clarify when there is, and when there isn't, official candidate data.
"Looks like you are at an early stage of development. A useful service if sufficiently informative and impartial"
Good to know what the people want. Again, we're not sure if the user is referring to our website or UK democracy. Zing!
If you love reading user feedback, we publish a daily round-up in our Slack — the #website-feedback channel is the one you want.
📍New look polling station finder 📍
Check out the new-look 'Where Do I Vote?'! It's now using the same design theme as 'Who Can I Vote For?' — which hopefully helps with all that brand consistency, authenticity and user trustiness.

The new homepage.

The new results page.
We've also gone from two columns of information down to just one, as a result of user feedback last year, which suggested that people were missing the polling station opening hours. You can read that feedback in Chris' comprehensive review of user feedback on the finder (scroll all the way to the bottom for some warm and fuzzy comments!). That review also showed that 80% of traffic to the finder was via mobile, so the new design theme helps support our mobile-first approach. Let us know what you think!
📇 A roundup of the voter
ID

pilots 📇

Regular readers of Fridayblog will know that we're very interested in the voter ID pilots happening in five local authorities this May.

While each of those authorities provides information on what counts as 'ID' for voters in their area, we realised that there's nowhere that brings all the various requirements together to be compared in one place. So earlier this week, Rose became the UK's leading expert on voter ID and has compiled all the details here.

If you live in a pilot area, please do share your experiences with us. We're particularly keen to see what information you receive — leaflets, emails, adverts — take photos and send them to us!
🗺 Data for the world 🗺
Joe popped along to the 'Data for Development Festival' held in Bristol over the last few days. Mainly it was big international policy chat about measuring and improving progress towards the Sustainable Development Goals, but there were plenty of smaller sessions on themes we know and love at Democracy Club: how do you fund data collection; how do you use data to tell compelling stories; how can you make sure that the whole community is involved in generating data? No easy answers, unsurprisingly, but some good tidbits available via #Data4DevFest.
📅 What's next? 📅
We all met up in Cardiff (thanks Open Data Jelly!) this week to plot our time up to Easter. Here's what's on the docket. Expect us to ramp up the emails and to generally shout about candidates a lot. And details on the 10 April crowdsourcing parties coming soon!
Forward!