Plotting for the year ahead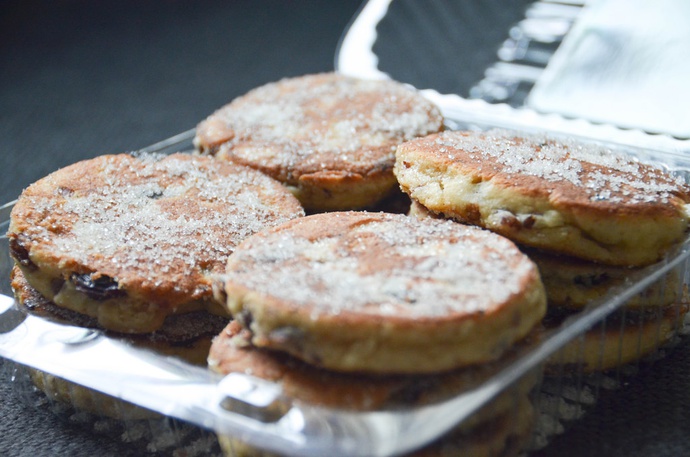 The future, brought to you by Welsh cakes
In this week's blog: we're thinking big, and medium; there's a sneak preview of our annual report; a reminder to come join us in Manchester on 23 June; and more!
🔮 What's next? 🔮
Sym, Chris and Joe got together in Cardiff this week to lightly plot the year ahead. There was more to think about than one day allowed, but we have a few ideas, above and beyond delivering to the same or better level than we did for May 2018 and keeping a general election in mind.
Some of the bigger stuff we discussed included:
a representatives database (this was in the list of maybes for last year, but perhaps should make it on to the priority pile this year?)
an expanded, automated election reminders service (given we're now confident of capturing every by-election)
a candidate-pledges product (another effort to improve satisfaction rates on WhoCanIVoteFor.co.uk)
thinking and shouting more about what we want the future of The Electoral Commission /

UK

democracy to look like (people ask us for this sort of thing)
These are all quite significant things and there's a reason that we didn't get started on any of them last year… we need more people. Hence the meta-idea for the year ahead is to fundraise, fundraise, fundraise. Over the last few months we've developed a fundraising presentation — we'll be touting it around over the summer and beyond.
The funding presentation briefly mentions our approach to creating sustainable change, which separates the sustainability of Democracy Club from the sustainability of the products. They don't have to go together: if the products can be owned and delivered sustainability by a better-placed institution, then that's the route we should pursue.
We spent some time talking about the sustainability of the polling station finder, as the most rounded, finished product, which now feels like something that should always exist. How do we best achieve that? We could try to raise sustainable income for Democracy Club to deliver it or we could try to identify the route to the state taking it on permanently. There are upsides and downsides to either option. But we're clear that we don't want this bit of now-expected election infrastructure falling over in the event of Chris getting knocked down by a Swansea omnibus.
Some smaller thoughts we bounced around, that would hopefully be easier to work on:
a new model for 'membership' of the club
Democracy Club design principles
an ElectionEverything widget (i.e. expand the Where Do I Vote widget to include candidates)
functionality for folks to upload CSVs of candidates data (to make it easier for local party chairs/coordinators to help improve the candidates data)
Lastly, one of the goals we set ourselves last year was to find funding for electionleaflets.org or to close it down. We failed to find funding, so according to the rule of don't-bluff-about-these-things, we now need to think of carefully killing it. How do we do that? Comments welcome below!
More to follow…
🐝 Join us in Manchester! 🐝
Online comments on all of the above are very welcome, but we'd love to see you in person in Manchester on Sat 23 June, where we'll be celebrating the amazing achievements of the club and discussing what's next.
The schedule is still being finalised, but we'll probably start late morning or noonish to give people time to travel to Manchester. We're hoping to get a guided tour of the People's History Museum and might do a walking tour of the democracy hotspots of Manchester. Lunch is on us! (Also, if you can't afford tickets to Manchester, get in touch!)
📉 Reporting on our election year 📈
Democracy Club's reporting year runs May-to-May to fit with election season. We've written up our stats and some light analysis to publish on the website soon. But! Fridayblog readers can get a sneak preview here. Please do comment on anything that isn't clear — or anything you think is missing.
🎉Crowdsourcing just got a bit easier! 🎉
The homepage of the candidates crowdsourcer looks different! We've made it a bit easier to get straight to the upcoming by-elections. And if you're signed in, it's hopefully more obvious where there are gaps to be filled.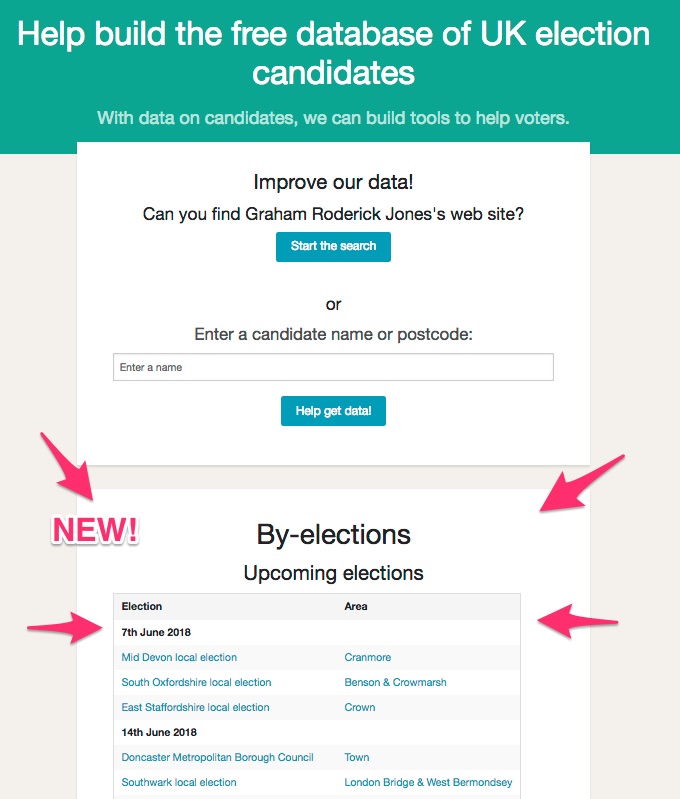 Thanks to the amazing volunteers who keep-on-wombling throughout by-election season. Remember, democracy is for life, not just for the first Thursday in May. (We'll get that on a car sticker soon.)
📹 Videos on the impact of civic tech 📹
Our friends at mySociety run a conference on the impacts of civic technology, the last edition of which was in April. (Joe attended and wrote some notes here.)
All the videos and slides from the conference have now been published on the conference's website, so you can watch Martha Lane Fox's keynote, sessions on designing for civic engagement, funding, open contracting and many more interesting bits. Much content!
📅 What's next? 📅
As well as pondering the bigger picture, we did a sprint plan for the next two weeks. Here's what we'll be working on. As always, comments welcome.
We'll also be continuing to think about the year ahead and publish something coherent when we have it!
Forward!
Photo credit: SK (CC BY-ND 2.0)