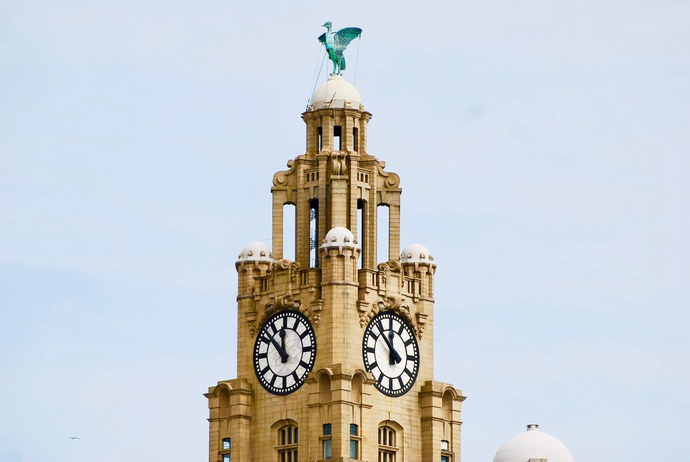 Breaking: Liverpool is excellent
This week, we're in Liverpool, we're watching America, we're reminded that there was such a thing as the Admiralty, we're discussing open data on councillors, and there's voter ID news. Phew.
🗺 The World Transformed 🗺
Joe spent a few days in Liverpool for 'The World Transformed', a kind of fringe to the fringe of the Labour conference, to see if he could spread the word about Democracy Club and the candidates database in particular — and to see what exciting new democratic ideas were being shared.
There were several sessions on how to do democracy differently (including questions of democratic public services and democratic media) and panels on what to do about the massive tech firms and their influence on politics. All interesting stuff. Some of the sessions are now online; the best place to find them seems to be on Soundcloud.
Over in Birmingham, the Conservatives conference starts this weekend. If you're going to any of it and can help spread the word of Democracy Club to any potential candidates, please do!
And if you're not conferenced out, here's an interesting looking one in Oxford, on compassion in politics.
🇺🇸 Letter from America 🇺🇸
Roughly this time last year, we pootled over to New York City to meet the folks behind TurboVote. (Fridayblog of that week here). This week, it was the USA's National Voter Registration Day. There were some giant brands supporting the cause in partnership with our American pals.
Today is #NationalVoterRegistrationDay in the US. If you're not registered, we've made it simple with our partner @TurboVote. https://t.co/Qurs2ewuNq

— Instagram (@instagram) 25 September 2018
Instagram got in front of at least a basquillion of their users with ads linking to Turbovote. TechCrunch had a little write-up (inc videos of the ads).
The twitter hashtag trended all day and plenty of celeb's waded in to spread the word.
⛵️"The Attack on Martinique" ⛵️
Joe spent Thursday lunchtime in the frankly-a-bit-absurd Admiralty House on Whitehall, for a meeting of the National Democracy Week Council. It was full of paintings like this.
The 'council' is the group brought together by the Cabinet Office to help deliver National Democracy Week and this was the meeting to review how it all went.
We were asked to present on our experience of the week and what should happen next. Democracy Club is a bit of an odd one out on the council, most of whom serve a particular community that might be underrepresented in democracy (e.g. RNIB and Mencap). Our community is made up of people who know loads about democracy and want to help crowdsource information to democracy work better for everyone else. So we talked about our summer party, the awards, and the value of having a space (the council) to convene everyone working to make democracy better.
The council went on to discuss where the week should lie in future (if it even needs to be a week), whether there'll be a theme, a target audience, and so on and so forth. The council were invited to join the DemoClub Slack to try to keep the conversation going… but it's possible that nobody uses Slack, so an email list might follow.
If you have any thoughts on the week, or the council, we're happy to relay these to the team at the Cabinet Office.
🏛 Do you know who your councillors are? 🏛
We have a new channel in the Slack for chatting about open data on councillors and how to make it happen. The closest anyone has got is at OpenCouncilData.co.uk — not bad at all — but there'll need to be different formats and some more fields (like email addresses).
The channel already includes folks from mySociety, Open Data Manchester, OpenCouncilData and the 89up agency, who are busily chatting away. If you're interested in following or joining the conversation, you can find it in #councillors in our Slack. We're particularly interested to hear from potential users of the data.
🛂 Spotted: news of voter
ID

in May 2019 🛂

Our eagle-eyed Slack users spotted the first announcement we've seen of a voter id pilot for May 2019: Pendle in Lancashire.

This seems a good moment to link to the Electoral Reform Society's report into the pilots; if you don't have time to read the whole report you can probably get the gist from the title… "A sledgehammer to crack a nut". There remains plenty we don't know about the effects of voter ID.

We'll be keeping an eye out for more announcements to ensure we can help voters out in May 2019.
📅 What's next? 📅
A few blogs ago we pointed to the report of the consultation by the Cabinet Office's Accessibility Working Group. Next week, we'll meet its chair, Paul Docker, Head of Elections at the Cabinet Office, to discuss the bits we think we can contribute to.
Meanwhile, we're about to break (and remake) the candidates API, so if that's something you use or have built stuff with in the past, get in touch!
And on Thursday, DemocraJoe will be at the 'Practical Democracy meetup' in Bristol. Come along!
Forward!