A Quick Review of the Euros, and What's Next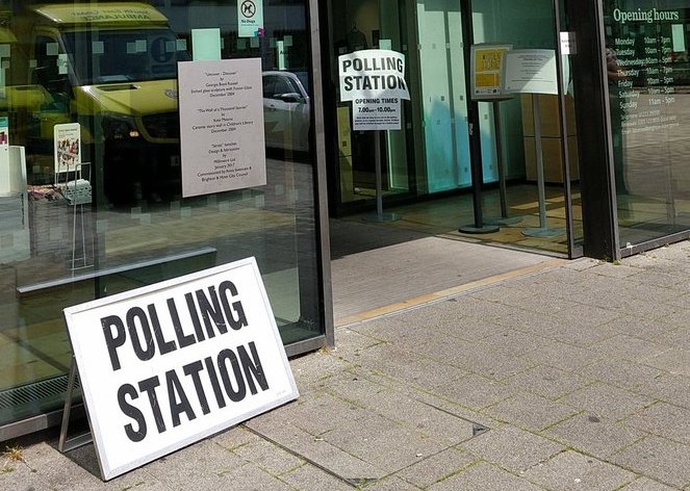 Thanks to everyone who sent us pictures of polling stations! Should keep us in blog images for a while
In today's blog! Some quick stats from yesterday, a Doodle poll for our summer get together, and there's a EuroParl civic tech debrief next week.
🗳 Yesterday! 🗳
Some early stats…
From Monday to last night, we processed nearly 1.3 million polling station searches. Just under 900,000 of them were from 10pm Weds to 10pm Thurs. We were able to serve a polling station result in 57% of cases.
Chris, Will and Peter worked throughout the day on the polling station data, responding to reports of errors or changes. In one case in Kingston upon Thames, unexploded WW2 ordnance was found, resulting in the closure of two polling stations. The council redirected voters and informed us of the changes and we'd updated the site within 30 minutes. Ta-da!
We did seem to have a higher number of people than average asking about why we didn't have X area, which speaks to the idea that finding your polling station online is now normal and expected. We did a quick blog answering such questions.
Our Who Can I Vote For? website saw ~120,000 users from Monday through Thursday. The candidate data powered this, plus the Your Vote Matters website and the In Your Area website.
Much more analysis in our annual report to follow over the summer. This will include breakdowns of the data by area, user feedback, things we could have done better, etc. If you have specific questions about any of the projects over the local or EuroParl elections, let us know!
In terms of results, this website looks like it'll do a decent job, so we'll just be marking winners (rather than vote counts) from Sunday night / Monday morning, whenever they are announced! A list of winners will be available as a CSV.
🙏 Thank you! 🙏
As always, a huge thank you to everyone who helped gather voter information!
From gathering candidate data (probably our best ever haul, in terms of relative numbers?), hustings events (these seemed pretty popular on Who Can I Vote For? — partly because there were only 12 regions, so we could actually offer hustings info to pretty much everyone), and for pushing the information out to local facebook groups and so on.
Let's all get together and do it again soon. (And of course, by-elections continue!)
🛁🏛 Come join us in Bath Spa 🛁🏛
We do an annual summer get together for anyone interested in our work. We've been to Runnymede, to ~St Peter's Square, Manchester, and have now run out of democracy locations. So we're going to Bath because it's quite pretty.
We'll be discussing the past 12 months and thinking about what's next — a snap general? All-out local polls (and a mayoral) in London and several other cities? And will we ever get to the democracy beyond elections? Come along! We'll probably go for a walk, have some lunch, or perhaps visit something tenuously linked to democracy!
But when? You decide!
Please fill in this Doodle poll — you don't have to confirm-confirm, but it would be good to get a sense of numbers and of which dates over the summer work for you!
📝 EuroParl elections civic tech debrief 📝
There were a lot of new projects springing up around yesterday's election: attempts to make voter registration for EU citizens easier; 'tactical' voting sites; and some new voter advice applications.
So it's a good idea to debrief — Newspeak House is hosting just such an event on Weds next week. Joe is hoping to go along from Democracy Club, or at least follow along on a Google Doc…
📅 What's next? 📅
Chris is off for some well-earned RnR. The rest of us will be debriefing and plotting next steps. We'll be debriefing with The Electoral Commission sometime soon too.
Forward!
🗳