What do 35,500 polling stations look like?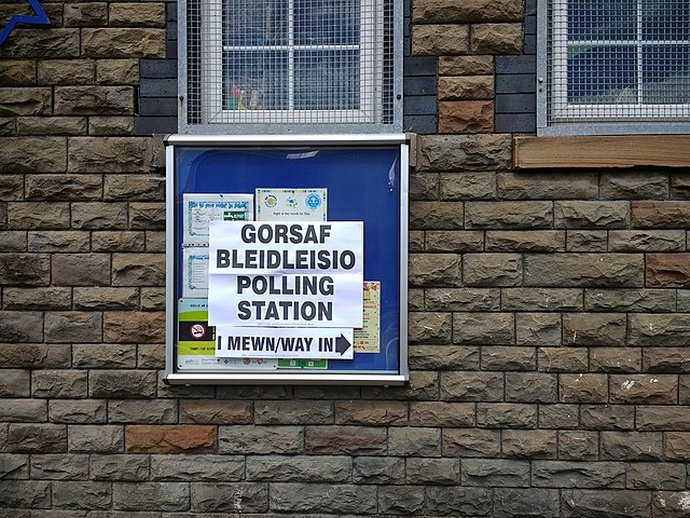 Mae gorsafoedd pleidleisio ar agor o 7yb i 10yh ar ddydd Iau 6 Mai.
We run the UK's polling station finder. It's a lot of work: in order to get the correct data, we have to contact each council in turn and have them send us a file from their electoral management system. We're a small team, and we've been working on it for three months now.
With that in mind, we're delighted to announce that this year our polling station finder has the widest coverage ever. There are 371 council areas in Great Britain, and we've received data from 336 of them, including all areas in Scotland, Wales, and Greater London. This equates to 93% of the voting age population.
We're pretty happy with that result. In a small way, it's historic: no one, so far as we're aware, has ever assembled such a list of UK polling stations before an election. We're not sure anyone has ever assembled such a list after one, either.
We focus on helping the individual voter find their assigned polling station. But, now we've got the list, wouldn't it be fun to have a look through? Polling stations, after all, are a unique sort of building. When viewed in aggregate, what kind of picture do they paint of the country?
Working alongside the Association of Electoral Administrators, we've had a go at producing some estimates on the numbers and types of building hosting ballot boxes today, 6 May. The list below isn't anywhere near exhaustive, but it's a first attempt at something no-one (to our knowledge) has tried before.
You can read the full press release here (PDF).
Terminology
A polling place is the building or area in which a polling station is situated. A single polling place can hold multiple polling stations. In Scotland, the term polling place is commonly used on signage, whereas England and Wales prefer polling station.
The term 'local' or 'nearest' polling station is incorrect and misleading, and should be avoided. Voters must vote at the station to which they are assigned.
Polling stations in Great Britain on 6 May 2021
There are approximately 35,500 polling stations in use across Great Britain on 6 May. These stations are spread across roughly 30,000 unique polling places. There are 4,764 stations in Scotland, 2,329 in Wales, and 3,888 in Greater London.
Estimates for number of polling places which are cited in or near…

| | |
| --- | --- |
| Halls (all kinds) | 11,000 |
| Village halls | 4,500 |
| Schools | 3,500-3,800 |
| Community centres | 2,700 |
| Church halls | 2,000 |
| Nonconformist chapels | 1,500 |
| Community halls | 500 |
| Libraries | 450 |
| Scout halls | 400 |
| Town halls | 250 |
| Social clubs | 200 |
| Cricket clubs/pavilions | 120 |
| Hotels | 100 |
| Colleges | 100 |
| Salvation Army halls | 100 |
| Football stadia or clubs | 100 |
| Rugby stadia or clubs | 85 |
| Guide Halls | 80 |
| Sports Centres | 70 |
| Tennis clubs or courts | 55 |
| Universities | 40 |
| Golf Clubs | 35 |
| Royal British Legion | 35 |
| Museums | 35 |
| Masonic halls | 35 |
| Dance studios | 20 |
| Fire stations | 20 |
| Synagogues | 15 |
| Mosques | 10 |
| Hospitals | 10 |
Polling Places detail
There are approximately 600 mobile/temporary polling stations across GB. 'Car park' features in the name of 190 stations.
Pubs: How many pubs are in use is essentially impossible to know without counting them individually. However, the term 'public house' returns 90 unique results, and 'Arms' returns 67.
Food: At least 14 polling stations are situated in restaurants, including three in the Sea Fish Restaurant, Conisbrough. Two stations have the name 'food' in the title: Guild of Fine Food (Gillingham) and Runcorn & District Food Bank.
Politics: A number of addresses incorporate the names of former prime ministers: Gladstone (20), Churchill (19), Peel (15), Attlee (5), Palmerston (5), Disraeli (2). Five venues include the name Fawcett.
Museums and Heritage: Over thirty museums are in use as polling places. Examples include the Museum of Naval Firepower (Gosport), the Museum of English Rural Life (Reading), Biggin Hill Memorial Museum (Bromley), Piddington Roman Villa Museum (Northampton) and The Museum of the Jewellery Quarter (Birmingham). Sheffield Archives, Wigston Record Office, and the Royal Geographical Society are also in use.
Sport: In addition to the venues mentioned in the table above, we have found 13 boxing clubs, five swimming centres, a running track and a ski centre.
Military: Nine Army Reserve centres and one regular Army barracks are in use.
Misc: We have also identified six hairdressers, five skittle alleys, three gyms, two carpet shops and a Launderette.
England

Havering Dog Training Centre

Keith`s Discount Carpets, Wigston

Caravan outside Our Plaice Fish & Chip Shop, Halesowen

Caravan adjacent to Chinese Takeaway, New Rowley Road, Dudley
Scotland

Fort William Shinty Social Club

Cowal Dog Training Club, Dunoon

The Ceilidh Hoose, Cearn Shulaisgeir, Stornoway
Wales

The Feel Good Factory, Ynysboeth

Hair-o-dynamics, Pontmorlais
Data
This information was drawn from polling station data provided to Democracy Club by 334 of 371 GB council areas.1 Figures for the remaining 37 councils were estimated from previous years.
As of 6 May 2021, Democracy Club's polling station finder at WhereDoIVote.co.uk covers 93% of the GB voting age population, including all of Scotland, Wales and Greater London.
The data provided by councils has no identifying tags and limited consistency in address format. A search for 'school', for example, will bring up 'school road', 'old schoolroom', etc. Many stations are situated in outbuildings or annexes which separate them from the rest of the school building. We have no way of telling how many schools, libraries or other buildings have been closed due to their use as a polling place.
Consequently, although we have done our best to filter and check the data, the aggregate numbers cited above should be treated with caution, and most numbers have been rounded.
🌁
---
Two councils supplied data to us after the stations were analysed. ↩