The one where we celebrate all the polling stations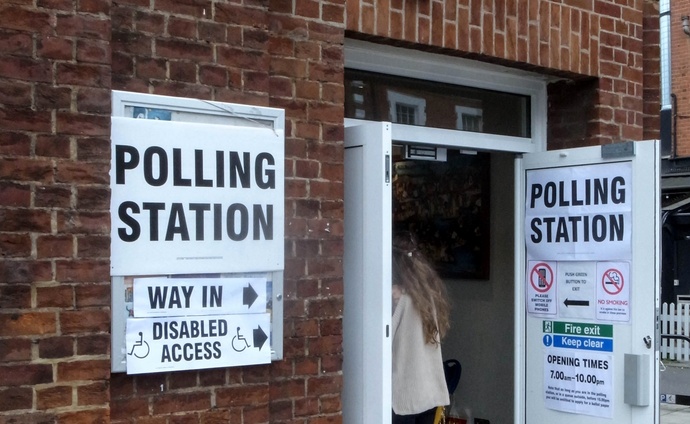 For the first time, voters in all council areas holding elections are able to find their polling place on Democracy Club's online polling station finder.
Working in partnership with the The Electoral Commission and electoral administrators across the country, Democracy Club has collected data on every single polling station in the UK. Founded in 2015, this is the first time the finder has partnered with 100% of councils, and marks a real milestone in Democracy Club's mission to make elections more accessible for all.
150 years since the passage of the Ballot Act, polling station information in the UK is not collected centrally by anyone else, and due to the nature of the data our work must start from scratch each election cycle. By building and running the finder, we've shown that it can be done, but there's a lot more work needed to smooth out and speed up the process. Ultimately, we think this work should be done centrally by the state.
We'd like to extend our thanks to every one of the UK's brilliant electoral services teams. It's taken us over two months and countless hours to collect and publish the data, and we know that each council has worked just as hard to book, prepare and staff the venues. Elections don't look after themselves: all the underlying mechanics, from polling stations to electoral wards, is liable to change, sometimes radically, between elections.
Peter Stanyon, Chief Executive of the Association of Electoral Administrators said:
"This is a milestone for modern UK elections. Pulling together information on every polling station is incredibly helpful for electors and councils alike. As elections are organised locally across hundreds of different local authorities, using a variety of electoral management systems, there has never been a centralised way to gather and publish this information. The Democracy Club team has done brilliant work building this over recent years, huge well done to everyone involved.
Data
This information was drawn from polling station data provided to Democracy Club by all 227 UK councils holding elections on 5 May 2022.
The following figures should be treated as estimates only, as the data contains limited consistency in address format. Unless where specified, all numbers refer to polling places, rather than polling stations (see terminology, below).
Terminology
A polling place is the building or area in which a polling station is situated. A single polling place can hold multiple polling stations. In Scotland, the term polling place is commonly used on signage, whereas England and Wales prefer polling station.
The term 'local' or 'nearest' polling station is incorrect and misleading, and should be avoided. Voters must vote at the station to which they are assigned.
Polling Stations in the United Kingdom on 6 May
There are approximately 22,000 polling stations in use across the UK on 5 May, spread across 18,000 unique polling places.
There are 12,800 polling places in England, 2,500 in Scotland, 2,100 in Wales, and 600 in Northern Ireland.
At least 400 polling stations are listed as portable or temporary structures.
Estimates for number of polling places which are cited in or near…

| | |
| --- | --- |
| Halls (all kinds) | 5,600 |
| Places of worship | 3,900 |
| schools | 3,300 |
| Community Centres | 1,900 |
| Church halls | 1,700 |
| Village halls | 1,500 |
| Libraries | 350 |
| Scout huts | 230 |
| Pubs | 190 |
| Sports/leisure centres | 150 |
| Social clubs | 120 |
| Car parks | 110 |
| Colleges | 75 |
| Royal British Legion | 70 |
| Cricket grounds or pavilions | 70 |
| Football clubs | 55 |
| Rugby clubs | 35 |
| Universities | 25 |
| Museums | 25 |
| Masonic halls | 20 |
| Fire Stations | 20 |
| Army/Army Reserve buildings | 8 |
| Dance studios | 7 |
| Hairdressers | 7 |
| Skittle alleys | 2 |
| Dog training clubs | 1 |