Why Democracy Club is non-partisan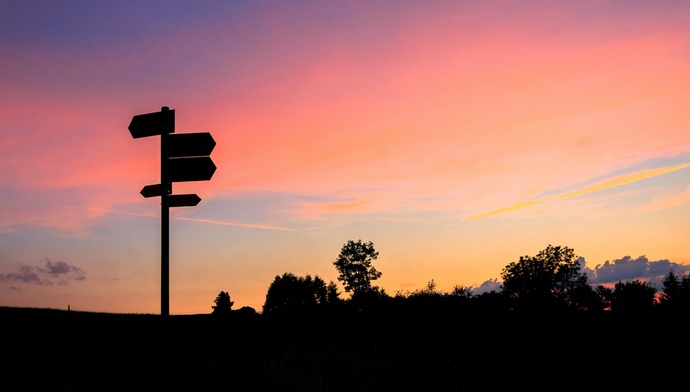 In this metaphor, we're the signpost.
Democracy Club is impartial and non-partisan. This is a carefully cultivated position which pervades everything we do. It's a position which has reaped substantial dividends; put simply, we wouldn't be able to operate with anything like the same success if we had adopted a political stance.
We often have conversations with organisations who hold a particular agenda, policy, or world view. There has, at times, been a culture clash between our aim to be neutral on political issues and their drive to realise their mission. In this post we want to explain how we came to our position and why we think it's so important.
What we do
Our organisational goal is to 'build the digital foundations to support everyone's participation in democracy'. In practice, this means ensuring that everyone can access key information on elections (when, where, and how to vote; lists of candidates; results) with as little hassle as possible. We do not do this because we think it will benefit a particular political party or cause. We build digital foundations because we believe that a truly representative democracy is one that is accessible for everyone.
Our services - in particular WhoCanIVoteFor.co.uk - offer a unique platform where all candidates are given the same space to set out their stall for voters. We're not directly concerned with the national picture, but rather the specific choice which faces the individual voter; for example, we present only the manifestos for those parties which will actually be on the ballot in question. This includes groups who would otherwise be unknown to the voter until they receive their ballot paper.
Democracy Club wants to build a democracy in which all interested organisations, including political parties, can make the best use of the opportunities that digital offers. We want a democracy in which politicians understand the importance of electoral data and what it can do for them and their voters. An awful lot is said about the dangers digital and data pose to democracy, some of it all too true. But there are also considerable upsides, especially in transparency and accessibility. Our user feedback demonstrates the massive potential non-partisan digital services have to transform the way voters interact with their democratic rights. People value simple platforms which give them the details and space they need to weigh the options and make up their own minds.
Most importantly, we've built a large and active community of volunteers containing members of all major political parties and none. We've worked hard to maintain an environment which encourages people to leave their politics at the door and work together to collect information which benefits the whole of society.
Who we reach
Non-partisanship is crucial to how we operate. Our polling station finder works because electoral administrators trust us to publish the information they provide in a clear, neutral setting. The Electoral Commission and UK Parliament are happy to direct visitors to our site because they know we can be trusted to avoid political bias. Democracy Club's enormous success over the last few years would have been impossible without this trust.
Our candidate and polling station finders have been shared by news outlets on every point of the political spectrum: The Daily Telegraph, The Guardian, GB News, The Express, Sky News, The Times, The Mirror, The Independent, and an enormous variety of local and regional news platforms (especially through our partnership with Reach PLC). More generally, we've seen our data and other services used by an enormous range of pressure groups, charities, and community organisations.
We've achieved serious penetration within political parties themselves. Our polling station widget has been hosted directly on the website of the Liberal Democrats and Plaid Cymru, while the Labour Party uses our API to run their own polling station finder. In 2022 alone, WhereDoIVote.co.uk was shared by the central social media accounts of The Alliance Party of Northern Ireland, Scottish Labour, Scottish Liberal Democrats and the Scottish Green Party, while the Green Party of England and Wales used WhoCanIVoteFor.co.uk to help supporters find their local candidates. None of this includes the widespread use of the Electoral Commission's polling station finder, which is powered by our data.
Anecdotally, we know that our services are used by major and minor parties alike to keep informed of upcoming elections, promote their candidates and access accurate polling station information while out canvassing. Each year, thousands of edits are made to our candidate database by party candidates and agents (want to join them? Find out how!).
We can always do better
Eagle-eyed readers of the above will notice a progressive/left-wing bias among our political party users. Although we've had significant coverage from the conservative/right-wing press, and have plenty of examples of individual or local candidates enthusiastically sharing our services, we've yet to receive engagement from the central organisations of the Conservatives or Brexit/Reform UK. Our DMs are open!
More broadly, we're concerned that the 'democracy space' often appears to be progressive/left-wing in messaging and outlook, or focused on contentious issues such as electoral reform. Without disparaging these positions, we believe there's scope for genuinely cross-partisan discussions on how the present system operates, and how it might be simplified and made more coherent. Good starting points for these discussions can be found in the Association of Electoral Administrators' Blueprint for a Modern Electoral Landscape, or the report of the House of Lords Democracy and Digital Technologies Committee. This is especially important for us as an organisation with few policy positions and a focus on efficiency, rather than reform, of the present system.
The worst case scenario, which we're lucky to have avoided in the UK so far, is that democracy itself becomes a partisan issue. We all need to work hard to ensure this doesn't happen.
Forward!
These issues accepted, we're extremely proud of the position Democracy Club has established for itself within UK politics. We've shown that, in a deeply partisan environment, there's power in carefully managed impartiality.
As Tom Steinberg observed back in 2012, one of the strengths of non-partisan civic technology is its potential to shift the way a whole sector operates, for the benefit of the individual citizen, without attracting "equal and opposite forces". To adopt Steinberg's language, Democracy Club has begun to shift the way the democratic services sector operates in the UK, without creating a comparable reaction. This has enabled us to deliver high-quality election information to millions of voters, helping those unfamiliar with the process find their bearings, and those with established convictions find their voice.
What we've achieved so far, mainly through providing simple procedural information, is only a foundation. Over the coming years we have plans to significantly extend these capabilities. We want to widen the scope and depth of our services, with new features to improve the accessibility and transparency of the UK's democratic processes.
Want to help? You can lend a hand financially, or get in touch using the details below if you'd like to talk about future potential projects or partnerships.