What's up for election in 2023?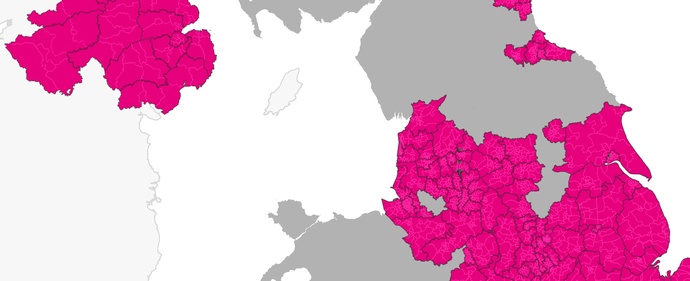 It's election time again!
This May, 8,519 councillors and four mayors are to be elected across England and Northern Ireland - the largest number since 2019. This blog gives some summary figures, key dates, and information about Democracy Club's work and how you can get involved.
Find out if you have an election at WhoCanIVoteFor.co.uk.
What's happening?
Every May, councils up and down the UK elect some or all of their councillors. Scotland, Wales, and Northern Ireland elect all their councillors at once. Each English council is on its own unique electoral cycle, which means that the exact number of English councils holding elections differs each year.
This year, elections are being held to all 11 councils in Northern Ireland, as well as 230 councils in England. However, this May will see not one but two polling days. Normally all areas of the UK vote at the same time, on the first Thursday in May. However, this year the local elections in Northern Ireland are being pushed back by two weeks to 18 May, to avoid a clash with the King's coronation on 6 May. This is because Northern Ireland's Single Transferable Vote system usually takes much longer to count than England's First Past the Post.
The vast majority of these seats were last elected in May 2019, in the last local elections to be held before the pandemic and at the height of the Brexit drama. These will be the first elections contested under the Elections Act, which will see voter ID introduced for the English local elections, among other changes.
The numbers
The 230 English councils holding elections this year are broken down as follows:
152 District Councils, of which 105 are electing all their councillors and 47 are electing one third of councillors.
32 Metropolitan District Councils, of which nine are electing all their councillors and 23 are electing one third of councillors.
46 Unitary Authorities, of which 32 are electing all their councillors and 14 are electing one third of councillors.
Of these 230 councils, 49 are holding the election on new ward boundaries. Due to the system of electing by thirds, 25 councils are holding elections in some but not all of their wards.
In total, 8,057 English council seats are scheduled for election, across 4,831 wards (as we get closer to the election, these numbers will rise slightly with the addition of by-elections).
In Northern Ireland, all 462 council seats are up for election, across 80 wards.
Additionally, four councils (Bedford, Leicester, Mansfield and Middlesbrough) are electing Mayors. These will be the first Mayoral elections to be held since the electoral system was changed to First Past the Post by the Elections Act.
What we do
Democracy Club has built a database of every ward holding an election, accessed via a simple postcode search. This information is accessed on our own websites and via the Electoral Commission's voter information pages.
Between now and the election, we'll be working with local authorities and an army of brilliant volunteers to collect polling station details and candidate lists. This enables every voter to find the key information relevant to them with as little hassle as possible.
Get involved!
The nominations for England close at 4pm on 4 April. In Northern Ireland, nominations close at 4pm on 24 April. Statements of Persons Nominated ('SoPN') will begin to be published immediately following these deadlines (from 4pm in England, from 6pm in Northern Ireland).
As usual, we're collecting candidate information for publication on WhoCanIVoteFor.co.uk. We're always looking for volunteers to help out - visit our crowdsourcing website shortly after the above deadlines to find out what needs doing. Read more about volunteering on Democracy Club Candidates.
Candidates standing for election are also encouraged to sign up and claim their free profile on WhoCanIVoteFor.co.uk.
Run your own website? You can embed the look-up for free, or build your own tool using our API.
🗳