Case study: Electoral Commission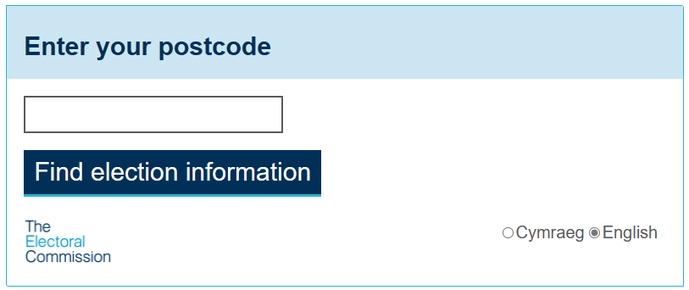 Democracy Club's data services have enabled the UK Electoral Commission to reach hundreds of thousands of voters with accurate pre-election information.
"The Electoral Commission and Democracy Club share a commitment to putting voters first. From the first day working with them, it was clear that their work is of real benefit to voters - providing vital information which enables them to take part. Democracy Club's expertise in developing simple digital tools that meet voters' needs means they've become a crucial partner, and we're proud to collaborate with them."
Tim Crowley, Head of Digital Communications and Voter Engagement
The challenge
The Electoral Commission is the independent body which oversees elections and regulates political finance in the UK. The Commission does not run elections itself, with each of the country's 400+ local councils administering its own area, organising polling stations and candidate nominations.
The Commission has a significant public awareness remit, and it wanted to be able to provide information about upcoming elections to voters. Importantly, it wanted to do this simply and digitally, without increasing the number of queries councils had to deal with. As the Commission's Head of Digital Communications and Voter Engagement said: "voters expect to be able to find election information online, including the location of their polling station."
The solution
Rather than build its own digital infrastructure, the Commission turned to Democracy Club's existing election information tools, which provide voters with elections, candidate and polling station information via a postcode search. For the 2016 elections, the Commission experimented with directing voters to our sites. This worked so well that the following year it asked us to integrate the tools into its own website.
At the same time, the Commission also committed to providing us with communications and other support, to enable us to expand our relationships with local councils and guarantee a more comprehensive service for voters. Working alongside the Commission's digital communications team, we have been able to improve our coverage to the point that we now receive data from every single council in the UK.
We brought our technical expertise and design experience to bear on the Commission's digital election information. We helped them build and maintain a postcode search function which serves data from our database, allowing the Commission to offer a personalised and interactive experience to any voter, anywhere in the UK. We also built a branded embeddable 'widget', which local authorities can use to give their own websites the same functionality, helping to lighten the communications burden these councils have to deal with at election time.
The result
Since implementation, the Electoral Commission's website has received millions of postcode searches from the UK public, and is now a core part of its public communications offering. The lookup has helped the Commission to relieve pressure on local authorities' customer service teams, for whom it has become a trusted and valuable service. The tool has also allowed the Commission to build partnerships with large social media companies who use the Commission's website to bring election information directly to their users. For example, in recent elections the Commission's website has been promoted to UK based Facebook and Instagram users.