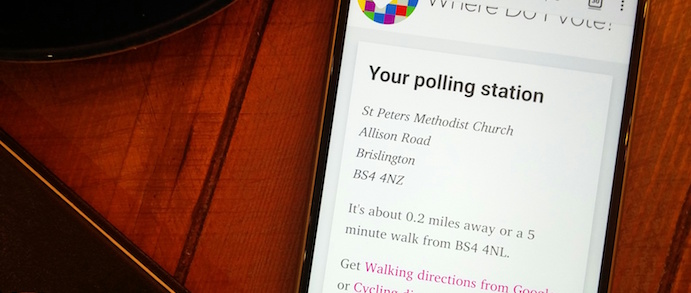 A screenshot from Democracy Club's WhereDoIVote.co.uk service, embeddable on any website.
One of the most common questions from voters on election day is "where do I vote?".
Our polling station finder provides the answer via a simple postcode search. See an example result.
We work with local government to establish internal best practice for publishing open data on polling stations — which means it becomes incredibly easy for voters to find it. Voters don't need to know which ward or constituency they're in or who manages their elections — we just get them the answer they're searching for, in seconds.
Very clear, simple, comprehensive. It's a wonderful voting tool and it definitely influenced positively my decision to vote. Thank you for providing such informative and easy-to-follow pre-voting platform.
The finder regularly receives over a million searches per election.
If you work at a council, find out how to send us data.
Find out how to use the widget on your website or in an app.
On the blog
Our latest blog posts