Presenting our Report on the 2019 General Election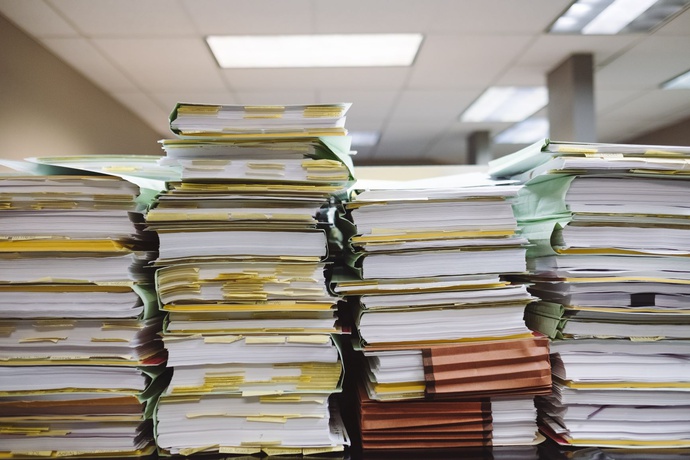 In truth, Democracy Club has never knowingly used a physical piece of paper.
🎈Exciting news!🎈
Today we publish our annual report. Due to the postponement of the 2020 local elections, this focuses exclusively on our work during the 2019 snap general election. December last year saw us break every one of our own records for data coverage, visitor numbers, partnerships and more.
You can read the full report in the relevant section of our website, but for those who just want to get to the good bits, here's the executive summary.
During the general election campaign, we:
Processed four million postcode searches via WhereDoIVote.co.uk, WhoCanIVoteFor.co.uk, and our live data feed, three times our previous record.

Successfully put our general election plan into action, employing six extra members of staff (including contractors).

Achieved 73% polling station finder coverage for population of England/Wales/Scotland.

Crowdsourced all parliamentary candidates within 24 hours of close of nominations.

Achieved some major new data partnerships, notably seeing our candidates data used by The Guardian, The Times and Sky News.

Links to our websites were shared online by major organisations of state, including the Electoral Commission and UK Parliament.

Successfully developed and deployed a combined polling stations and candidates widget in time for the general election. Added Welsh language capability to both widgets.

Gained over 1,300 new contributors to our candidates database.
Not bad, eh?
✨Who's the most popular, then?!✨
It is often argued that politics is a popularity contest. So, in that spirit, here are a few discoveries from Google Analytics that didn't make it into our report. Due to the structure of our website, the visitor numbers cited below are unrelated to postcode searches, so it's a pretty good indication of which contests and personalities the UK public were interested in during the general election.
Up first: where were WhoCanIVoteFor's most popular constituencies by visitors?
Here are the top five, ranked first to last:
These were, respectively, the seats contested by Boris Johnson; Jo Swinson; Dominic Grieve; Jonathan Bartley; and Gavin Shuker (the latter formerly of Change UK fame). Interestingly, Jeremy Corbyn's constituency of Islington North comes in at number 163 overall (presumably people aren't interested in what is a very safe seat?).
And our least popular constituency? Step forward: Pendle (closely followed by West Tyrone and South Swindon). Pendle's visitors were equal to a mere 0.83% of the number visiting Uxbridge. Somewhere had to be last…
Our most popular postcode comes in the form of a salutary lesson for journalists: always check your links. By an enormous margin, our most popular WCIVF postcode was BD2 3AU, which sits in the Bradford East constituency. It received about 10,000 visitors, when most others had a few dozen or fewer. We also received forty pieces of negative feedback from this page with comments such as 'My constituency is not featured', and 'Not everyone comes from Bradford!'. A bit more digging, and we discovered the culprit: The Daily Telegraph. The paper had accidentally linked its readers to BD2 3AU instead of WCIVF's front page. Whoops!
Lastly, our most popular general election candidate. The Prime Minister? The Leader of the Opposition? A firebrand campaigner? Nope, it was, in fact, Yace "Interplanetary Time Lord" Yogenstein, a candidate who received precisely 23 votes and about whom we collected no information at all. In fact, the entire 'most popular candidates' list is made up of similarly…lighthearted…individuals, with Count Binface, Lord Buckethead and Bill Blockhead each gaining thousands of unique visitors. Hopefully the fame softened the blow of all those lost deposits.
🕵️‍♀️What's next?🕵️‍♂️
Following on from last week's blog on our international users, and before we shut up shop completely for a couple of months, we're planning on conducting some more in-depth analysis of the masses of data we've acquired over the last year. In particular, we're hoping to understand who uses our services and how we can better focus our efforts on underrepresented groups, especially in less affluent areas of the UK. Watch this space!
Forward!