The Electoral Commission at 20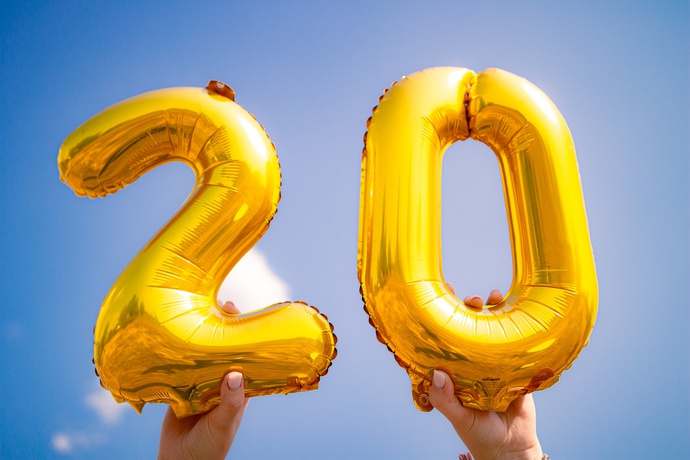 I never got a parliamentary inquiry into my effectiveness on my 20th birthday
Monday 30 November marked the 20th anniversary of the Political Parties, Elections and Referendums Act, and consequently the 20th birthday of The Electoral Commission. I'm sure the Commission looking forward to voting in its first GLA, PCC, and Senedd elections next May, though hopefully it'll have remembered to check its registration address as it's working from home at the moment.
Democracy Club has a great relationship with The Electoral Commission, who are one of our largest funders. The postcode lookup on the Commission's voter information page is powered using our data, and we hold regular conversations with the Commission's excellent communications team. In pushing forward with the lookup, the Commission has demonstrated levels of confidence, initiative and openness to innovation that has been sorely lacking in other organisations with a much stronger public service remit (who shall remain nameless).
We believe that the Electoral Commission is a crucial part of UK democracy, especially in light of the considerable changes which have been made to the electoral system in the twenty years since its creation. When it was born, devolution was still a relatively new concept across the UK and had only just come to England. During the 2000s and 2010s, new organisations such as the Greater London Authority (2000), Combined Authorities (2011-), and Police and Crime Commissioners (2012) radically changed the political landscape. Other developments such as electoral reform, local and national referendums, and the divulgence in franchise requirements across the UK have added further complexity. The importance of a central body which can provide regulation, oversight, guidance, and leadership to chronically overstretched local authority electoral services has never been clearer.
In place of a proper birthday party, the House of Commons Public Administration and Constitutional Affairs Committee (PACAC) has been running an inquiry into 'the role and effectiveness of The Electoral Commission.' As a special present to the Commission, we submitted evidence to this Committee, which has just been published.
Our PACAC submission is informed by our recent experience working with the Commission. We've called for a strengthening of the Commission's powers in the areas of data collection, digital, and public information. Specifically, we have made three recommendations:
1) As well as campaign spend control and political party registration, The Electoral Commission should be given more duties to collect data and provide information and educational material to voters.
In particular, we believe the Commission should be required to collect, and local authorities be required to provide, information on all upcoming UK elections, including lists of polling stations and candidates. This builds on our recent evidence to the House of Lords Democracy and Digital Technologies Committee, which suggested that councils should be required to publish all election information in a machine-readable format.
2) The Commission should adopt a digital strategy that allows them to improve their public information offering, and respond quickly to online harms and opportunities. It should make sure that UK elections are world leading in their digital infrastructure and stay ahead of emerging online threats.
We believe that public trust in the Commission and wider UK democracy is directly linked to the Commission's ability to provide individually relevant information to each voter. In an online environment filled with disinformation, the Commission should act as a central repository for trusted, official information. An example of this in action is the Canadian Electoral Commission's excellent Voter Information Service, which provides voters with everything from historic election results to polling station accessibility info using a simple postcode search.
3) This strategy should be delivered by a new Chief Digital Officer role and an in-house digital team who have a deep understanding of electoral administration. At present, the Commission's Executive team does not contain a role which is directly responsible for digital matters. Each new election is more digital than the last - the Commission should be better prepared for this future.
You can read our full submission here.
Here's to the next twenty years!
🎁🥳🎂