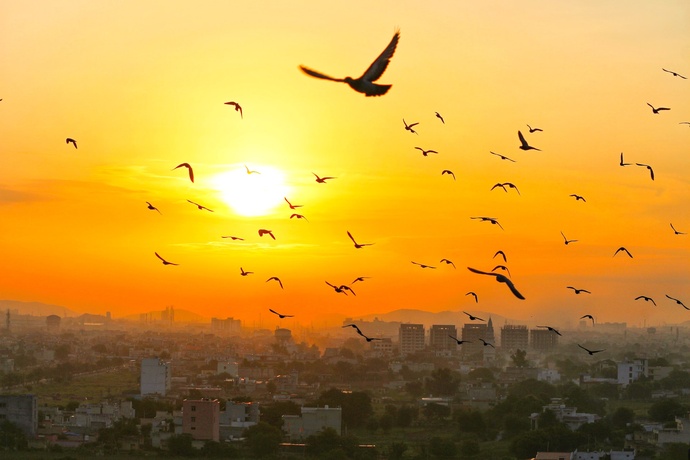 Flocking together.
New team update! We've had some important staffing changes here at Democracy Club Towers.
Three members of staff and two board members have left, and three new people have joined the team.
Saying goodbye…
Two board members who have been with Democracy Club since the beginning have stepped down. Olly Benson and Ian Watt have overseen Democracy Club's growth from a from a small start-up to the foremost election data organisation in the UK. Enormous thanks to them for all their work over the years!
This doesn't mean the board is shrinking, however - Olly and Ian are replaced by Ashley and Susan, who joined earlier in the year, as well as James (see below).
Eleesha Taylor-Barrett came to the end of her role in May, taking with her the accolade of being the first Elections Assistant to achieve 100% coverage on the polling station finder. Her social media skills - not to mention the speed with which she mastered the pivot table - will be sorely missed.
Our developer, Michael Collins, has also moved on to a new role after two years at the elections coalface. A large part of the fantastic level of output we've achieved since 2020 was down to him - working on everything from the candidates database and the Electoral Commission's API, through to new voter-facing elements such as referendums and (who could forget?) our parish council adventures during the mad opening months of 2021.
Last but not least, Mevan Babakar concluded her time as Interim CEO, and is moving on to a new role at a little-known American tech company. She was a crucial ingredient in our May 2022 success, placing us in an extremely strong position financially and organisationally and we've had a fantastic time working with her. You don't escape Democracy Club that easily, though; she'll be staying on the board.
…and hello!
Bringing us back up to strength are three new members of the Democracy Club team: James Key (board member), Bek Lewis (developer) and Shabira Papain (CEO). Over to them to introduce themselves…
James Key
James is a regulator, strategist and consultant working in telecommunications, infrastructure and innovation - currently as a leader in the Strategy team at Ofcom, the UK communications regulator. At Ofcom he leads across a range of cross-cutting and edge of remit policy questions, including developing a new regulatory regime for the BBC, early proposals for UK online safety protections and the launch of Ofcom's Open Data programme. He also has experience at boutique consultancies DG Cities, MTM London and DotEcon, developing strategies for clients including MHCLG, Google and Arts Council England.
Bek Lewis
Bek has been a professional web developer since 2015 - a role she fell into by accident whilst she was studying for a degree in Games Computing. She lives in Sheffield with her two cats, Claude (an entirely unintended pun) and The Big Meow (very loud). She enjoys studying languages and has a particular fondness for Toki Pona. Her favourite biscuit is the unassuming pink wafer.
Shabira Papain
Prior to becoming CEO of Democracy Club, Shabira has held a variety of senior positions across the voluntary and public sectors including COO of Best Beginnings, a charity tacking digital health inequalities, Head of Health Equalities & Digital Inclusion at NHSX, the digital arm of the NHS, and Director of Social Action for Health. She is also founder of People Street, an agile community development start-up making inclusive design achievable.

At Best Beginnings, Shabira led the international expansion of the highly successful Baby Buddy app to Cyprus, Greece, and Germany. At NHSX, she led the health inequalities assessment of the NHS Covid app and developed a new framework for inclusive user research.

Shabira is passionate about subsidiarity – a worldview enriched by her own life experience, born to Mozambican/Goan parents in Lisbon, then moving to Perth, Australia as a child and then to the UK at 23.

She dreams of one day moving to the south coast of Ireland with her partner Peter, once their 3 teenage kids have fled the nest.
We'll have more from Shabira in our next blog. The immediate task of the new team is to prepare for next year's English and Northern Irish local elections, while in the longer term we'll be moving to expand our existing projects in line with our updated strategy. Watch this space!
👨‍💻👩‍💻