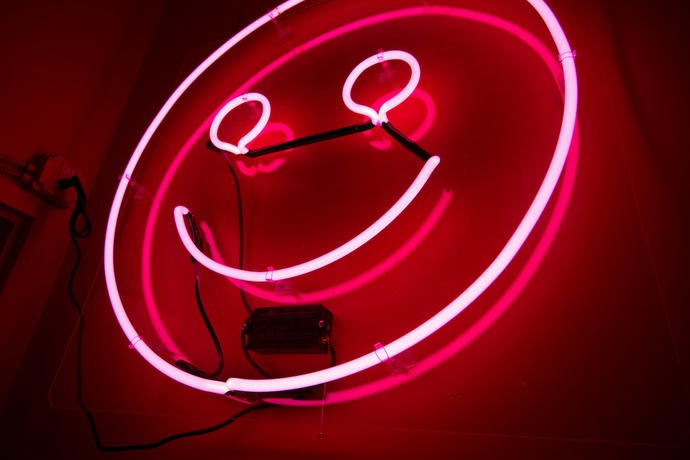 A typical WhereDoIVote.co.uk user
Today in Thursdayblog, we review the feedback to our polling location finder from thousands of users across the UK. And there are stickers.
📝 Where Do I Leave Feedback? 📝
As we mentioned back in December, the general election provided our busiest ever week across Where Do I Vote? and our APIs: between Monday 9th and Thursday 12th we processed 3.5 million postcode searches, of which 800,000 came via the website of The Electoral Commission.
This increase was reflected in every single council area. To take one example, the number of users in the City of Leeds shot up from 16,000 in the May European elections to 55,000 in December.
So, loads of users, but what did people make of it?
In places where we couldn't provide a polling station (about 30% of the country), we assume that users were unsatisfied (to quote one user who emailed us in May: "how can you call yourself a polling station finder when you just say to look at the address on your polling card? if i had my poll card i would look at it").
However, if we can provide a postcode result we ask the yes/no question: "Did you find this useful?" In December, no fewer than 71,242 users gave a response, an amazing increase on the 7,000 and 11,000 we got for the two elections in May.
| Found useful | Percent |
| --- | --- |
| Yes | 89.7% |
| No | 10.3% |
This represents a 3.65% decrease in satisfaction on the EU election.
Vox populi
Almost 4,000 users were kind (or irritated) enough to leave us some written feedback (all collected anonymously). Happily, very few of these were direct criticisms of us or our service, and those who did complain generally raised issues of which we were already aware. If our overall satisfaction rate was slightly down, this was probably more a reflection of the fact that we had a wider and more varied base of users than in any previous election.
We also saw the usual range of expletives, as well as 60-70 people each expressing surprise/outrage that you don't need an ID to vote in the UK, or asking whether it is possible to vote online.
Below we reflect on this feedback, and offer some choice selections for your reading pleasure (we promise we didn't make any of these up!).
On the socials
The general election offered far more avenues for people to discover the polling station finder than ever before: not only were links provided to users on Facebook, but we also worked with Twitter, Snapchat and Instagram. This was naturally reflected in the feedback:
I didn't know where to vote and I was in a panic but Snapchat saved me! Thank you!

Love this page so helpful . Who knew snapchat couldn't get any better, if it wasn't for you I would've forgot to vote 🗳

This is not what Snapchat is about

Helpful & precise on where to go. I forgot today was voting day but as i am always on Instagram & i saw it which reminded me.

My boyfriend was not sure of his polling station, and after I've found this link on Instagram, I've managed to locate it for him.

It's all over Instagram and it's really annoying

Finally a FB front page that helped. Thank you

Facebook earns money to help rig elections. You should be ashamed of each pay check you recieve.

This was a really good thing as I forgot my polling card thanks Facebook

I didn't know the election gone to be 12 December so now I know and will vote thanks twitter

Thank you reminding me, Twitter 🌹
This wide social media presence also appears to have resulted in our broadest-ever user base:
I'm too young to vote sadly but I hope the people of the old generation make the right decision for the kids of the new generation 🥴🥴😔

It was very helpful and I found where I can vote but I am only 13 so I can't vote

I'm 12 and loads of people on this app is to young To vote

Simple and clear instructions that I could understand as I am technology challenged and in my mid 70s.

I am almost octogenarian old codger, admiring the new technologies.

I'm not old enough, lower the age so idiots don't vote for the wrong thing yet again
Cartographic Criticism
Another significant difference between May and December was that we provided fewer maps during the general election, in an attempt to cut down on the number of errors. (Did it make a difference? Users who did get a map in December appear to have been sliiightly more likely to click 'yes'). Unsurprisingly, mapping was a topic mentioned in a number of comments:
Map is really useful 😁

Clear, easy, quick, with handy map and time estimate to walk (I'm Heavily pregnant so this is very helpful). Thank you!

The address takes me to a completely different address to the one clearly laid out on the map. INCORRECT

V straightforward and clear. Thanks! Maybe also include a map of where the polling station is?

A link to a map would be even better I guess but don't give money to Google on my account.
Views and News
A couple of users offered suggestions for improvement (including one bone of contention):
You could ask the BBC to add a clear link from their site to here as I was looking on there earlier and without using Google it's not that obvious.

I did find this information helpful, however I think it would be beneficial to also have a picture of the polling station so people know exactly what building they're looking for.
It's no surprise that our feedback form attracted many of the Great British Public's more general views on politics:
Only PROPORTIONAL REPRESENTATION will solve the mess the country is in!

I dont vote for lieing people

Boris number 1. Go BREXIT

Vote for Labour JEREMY CORBYN

Just awaiting to vote GOOD luck to all the parties
Brickbats
We had a number of (entirely justified!) complaints from people in Northern Ireland, as we do not cover the region but instead link to the Electoral Office of Northern Ireland's polling station finder:
Northern Ireland left out again…

It is very disappointing to find that not only are we in NI disenfranchised by the main parties but now also by this "find your polling station".
And, of course, you just can't please some people:
Already aware of all information given here

It gives literally no useful information

Not interestedly in elections

Seems pointless

This is not useful because it doesntnlet me vpt 😡😡

All I want to know is how can I vote online thank you
Warm fuzzy feelings
Ultimately, however, we're pleased to see that the great majority of the feedback we received was positive. We're proud to say that for thousands of people across the country, Democracy Club's polling station finder provided the only clear and precise answer to the practical question, 'Where Do I Vote?':
Easy access and effortless. Politics needs to run this way

This has been a very useful tool for me as a presiding officer

Very helpful, I was panicking as it was my first time voting, thank you.

This made my day very relaxing 😎 knowing where to vote 😉

This helped me a lot as this is my new home and I was clueless where the polling station was, I was going to ask my neighbors thankx

I relied on this, as local council site is down, no answer after emailing them 2 days ago

Bloody great

Great site, helping democracy!

My mum couldn't find her poll card so I found this website which really helped :-)

I did eventually find this page, after being led to several other unhelpful pages relating to all the fluff around voting but leaving out the main question: "WHERE can I/do I vote?".

Brilliant, thank you! Brief and exactly to the point i.e. polling station location, times, advice about ID, etc. AND eve a map. Thanks, again.

Great site, loaded quickly and well laid out with all the requied information.

It's so quick and easy to find my polling station! This website is absolutely incredible.

You are doing the job, you were asked to do, one can do no more or no less, well done sir/madam.
Phew. Okay, that's it for user feedback. If you'd like the whole data-dump (minus any personal data we've redacted) get in touch.
We might do the same with the feedback from Who Can I Vote For? soon — it's typically more wild than the feedback to Where.
🖌 Did somebody say free stickers? 🖌
Yes, they're here, the unique, world-exclusive, special edition, one-off print run, ~each individually signed and dated by the artist~, they'll-never-let-us-do-that-again Democracy Club GE2019 commemorative sticker.
Available to anyone who did some wombling (adding data on candidates) or anything else useful at the last election! Get in touch with Joe and he'll post one to you.
📅 What's next? 📅
We're having some chats with folks who also built polling station finders in GE2019 (Labour and the Lib Dems), catching up with The Electoral Commission to explain all the inner workings of the finder, as well as starting to invite data for May 2020. We've already got some candidate data in, some folks are already planning hustings…
Forward!